At Home Laser Hair Removal For Face Hair – 2019 Guide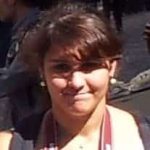 Unwanted facial hair is something that haunts almost every women. Whether the unwanted hair is on your upper lip, cheeks, sideburns or chin, you probably want to remove it.
Shaving is completely out of the question and nobody wants to have a glowing face full of bleached blonde hair.
You can find a ton of methods on the internet about how to remove unwanted facial hair, but which is the best? We believe that at home laser hair removal for face hair is the best solution for achieving beautiful smooth hair free skin.
It's true that laser hair removal treatments take longer to work but the results last a hell of a lot longer. Laser hair removal at home is cost effective, plus you can do it in the comfort of your own home.
Today we are going to review Tria's new break through product the Tria Precision. This little gem has been designed to remove hair in the more sensitive areas like your face.
Tria Precision
The Tria Precision is a lot smaller then the traditional Tria 4X. Its sleek, lightweight design makes it easier to manoeuvre around the more sensitive parts of your body like your face, under arms and bikini line.
The Tria Precision uses the same diode lasers as the Tria 4X which is the preferred technology of many dermatologists. This FDA approved device sends focused light beam impulses directly through the skin which disables hair follicles which permanently reduces the hair growth.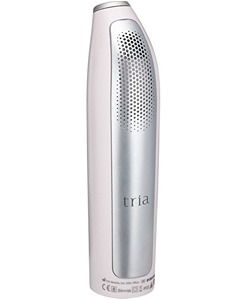 The Tria Precision only weighs 7oz which makes it perfect for taking it on the road. It is cordless with a rechargeable battery which lasts for 15 mins. It has three power settings and comes in two colors, dove and blossom.
Tria use on face
The Tria precision has been designed to treat your bodies sensitive areas. This means that it is perfect for at home laser hair removal for face hair.
Tria advise that you can only treat facial hair from the cheek line downwards. Tria also advise that men should not use this device on their face because their facial hair density is too high.
How to use Tria Precision:
1. Apply hair removal numbing cream.
2. Put on your safety glasses and turn the device on.
3. Unlock the device by holding it to your skin and then wait for the beep. All Tria laser devices come with a built in safety feature that only unlocks the device if the laser is safe to use on your skin tone.
4. Choose your treatment level. The Precision comes with 3 power levels for maximum results.
5. Hold the device to your skin making sure you have good contact. Once you hear a beep move the device about a quarter of an inch overlapping the last zap.
6. Continue to do this until you have covered the area completely. If the fan turns on then this is normal because the laser can get hot and needs to be cooled down.
7. For best results do treatments every 2 weeks for 3 months.
Tria Precision Skin tone and hair color guide
If your skin is naturally dark then Tria advises that the Precision is unsuitable for you.
Using the Precision on dark skin can cause skin irritation and even burns. Also if you have light hair like blonde, grey or red then again, Tria advises that the Precision is unsuitable. This is because the laser can not target the pigment in lighter hair.
If you use the Precision on lighter hair then you run the risk of not achieve any results at all. The handy table below should be able to help you determine if this product is right for you.
If you are looking for a laser hair removal device which produces results on light hair and dark skin, then check my blog post on the Using laser removal at home which features the Me Smooth.

How much is Tria laser hair removal
The costs for salon laser hair removal treatment can easily add up over time. The average cost for a face treatment is around $700.
Laser hair removal only reduces hair growth so there is a good chance that you would have to repeat the process in a few years. Buying the Tria Precision will only cost you around $350 which means that this is a great long term investment compared to using a salon.
You can also perform laser hair removal in the bikini area and under arms with the Tria Precision. Home laser treatment technology has come a long way overs the years, meaning that the results they produce are pretty much the same as what you would get in a salon.
You also have the added benefit of performing the treatment in the comfort of your own home. The price for a Tria Precision can vary between $350 – $450,
Clinical Studies
1. After your first month of treatment – Tria clinical studies have shown that users achieve up to 70% hair reduction three weeks after their second treatment.
2. After 2-3 months of treatments – Tria Precision users hair re-growth will start to appear more lighter and finer.
3. After 3 months of treatment – Hair follicles that have been zapped by the Tria Precision will stop growing hair. To prevent the chance of hair re growth, it is recommended to continue to do touch ups every now and then.

At home laser hair removal for face conclusion
The Tria Precision is a fantastic device for removing hair. The only set back that you may encounter is that your skin color and hair tone are not suitable.
Be sure to carefully match your skin and hair tone with the diagram in this blog post. If you would like to add anything to the post then please feel free to comment below.