8 Tips On How To Protect Hair From Sun Damage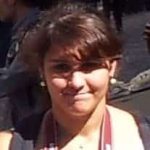 When you live in a sunny climate you need to take extra care to keep your hair healthy and shiny.
The same goes if you are going away on holiday somewhere lovely and hot.
We wouldn't think to go on holiday without a good quality sun cream to protect our skin but what about protecting our hair and scalp as well.
Fine or colored hair is most at risk because it's not as strong to begin with. Damaged hair can feel very dry and be extremely difficult to manage and style.
Sun damage can cause frizz, split ends and hair breakage, thinning of the hair and maybe the most shocking of all is discoloration which can put a huge downer on your holiday. It can be too easy to forget about all of this, until it's too late.
Take action now by reading my top tips on how to protect hair from sun damage.
1) Cover up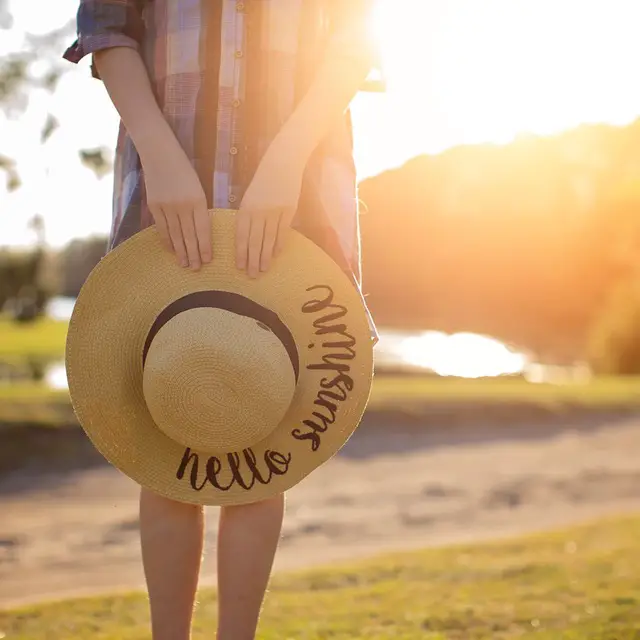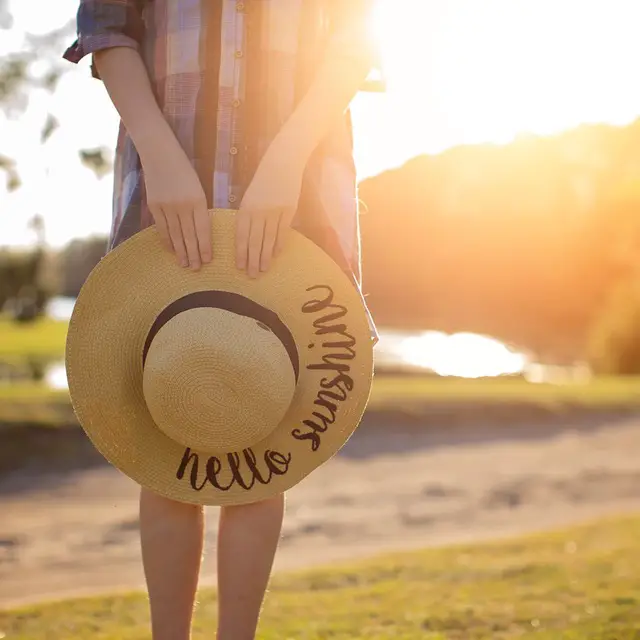 Ok so this might seem obvious but it is the most effective way to protect your hair from the sun, so I do have to stress the importance of it.
Wear a hat or headscarf whenever possible. I am guilty of not doing this myself but after my last vacation my hair was so dry that I have definitely learned my lesson.
You can get gorgeous fashionable floppy sun hats now so there really is no excuse! You can glam up your whole beach look with a sexy sun hat and even add some earrings for extra sassiness.
For a more boho beach look, wear a cool headscarf with some short denim shorts and sexy sandals.
I like to style my hair in a French braid to the side, this is such a cute look with a headscarf.
2) Hair sun protection spray
Invest in a good sun protection hair spray.
I cannot stress the importance of using a sun protection spray before exposing your hair to those super strong rays. Another option though is to use a natural oil or zinc oxide.
Your hair will thank you for it.
My favourite oil to use is Argan oil, it nourishes your hair whilst protecting and also the gorgeous smell is perfect for making your holiday even more tropical.
3) Sun protection cream
Chlorine in swimming pools is another thing that's not great for our hair. Of course, you're not going to be seen dead in a swimming hat at your fab resort BUT you can use a protection hair cream.
If you have bleached hair then you especially need to protect your locks, you don't want to end up with green hair… Can you imagine?!!
4) Rinse with clean water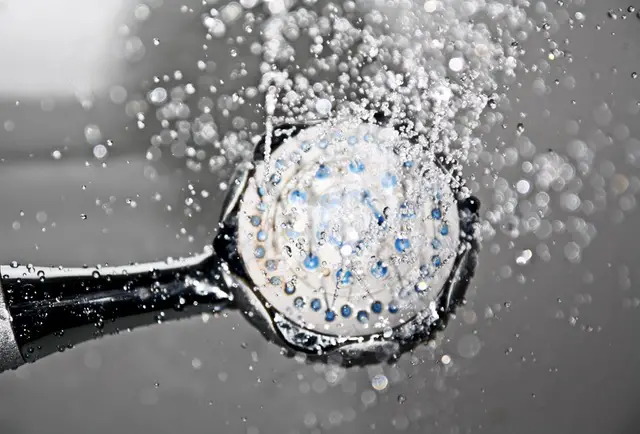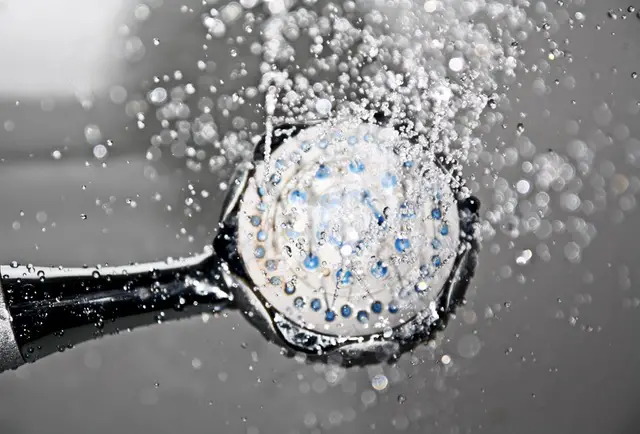 It's really important to rinse your hair with fresh water as soon as possible after being in the sea or swimming pool. The salt in the sea and the chlorine from the pool contribute hugely to making your hair dry and rough.
I know this can be a pain when you're at the poolside for the day but a lot of places have showers available close by.
5) Shampoo & Conditioner
You can get special shampoos and conditioners to help repair your hair after being exposed to sun damage. If you don't go for a specific sun protecting one then make sure the shampoo you are using is sulfate free, this prevents any stripping of color from the hair.
For any products that claim to protect your hair from sun damage, look out for these key ingredients
1. Ethylhexyl Methoxycinnamate
2. Vitamin E
3. Benzophenones
4. Buriti oil
6) Heat protection spray
As we all know, humid weather for a lot of us means extra frizz! Be sure to use a heat protection spray when styling and maybe get yourself some serum for extra smooth, frizz free hair.
So the key point I'm making here is to shield your hair, protect it as you would do with your skin and it will stay gorgeous all summer.
7) Deep conditioning mask
For some extra love and attention to your hair after sun exposure, you can renourish your mane with a deep conditioning mask.
If you have thick hair then leave the mask on for at least 30 minutes to allow it to properly soak in.
I sometimes leave a hair mask on overnight but do be careful to use a good quality mask as you don't want to risk your hair becoming greasy.
It would even be a good idea to use the mask for a couple of weeks before your holiday to get your hair in tip-top condition before sun exposure.
So remember that just because hair doesn't get sunburned it does still get damaged by the sun so be sure to look after it.
8) No extra heat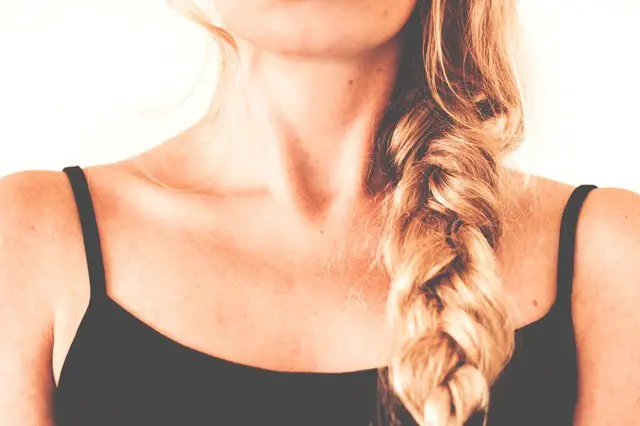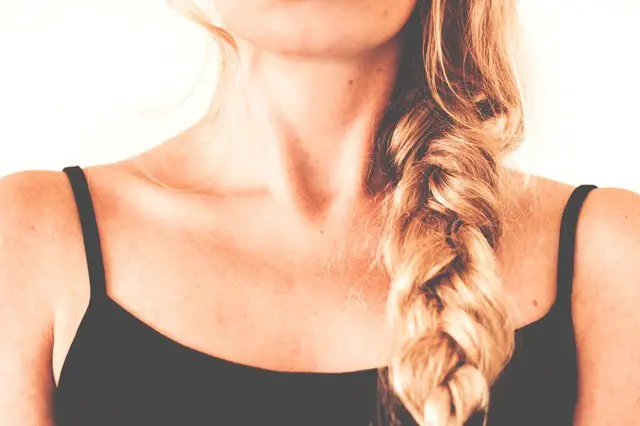 After a day in the sun, the last thing your hair needs is more heat. You're on holiday, relax and enjoy it.
Don't fuss with blow drying or using curling irons etc, this is the perfect opportunity to take a break from heat styling.
Instead, just let your hair dry naturally. You could use some mousse and scrunch some curls in or do a simple braid or ponytail.
I hope I have given you some things to think about.
I would also advise having a trim before you go away on holiday as it's a good idea to get rid of any dry or split ends in case the sun makes them worse.
Happy holidays & tanning girls