Can You Color Hair After Keratin Treatment?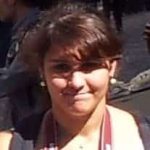 I see it all the time. Girls get their first keratin treatments and instantly fall in love with the results. Then, they want to improve their hair even more and decide to change their color a shade or two is just what they need. If this sounds like you, then you need to ask yourself this question: Can I color my hair after getting a keratin treatment?
Any hair stylist or at-home keratin expert will tell you that you need to wait at least two weeks before coloring your hair. If you dye your hair immediately after a hair therapy, then you won't get the full results. When you dye it less than two weeks after your keratin treatment, your hair color could look patchy because your hair strands would not take at all.
This is because the keratin applied on your hair has coated your strands, making it more difficult for colorants to penetrate into it and work their magic. But, I can assure you that you will not be happy with the results of your coloring should you decide to do so immediately after a keratin therapy.
It's always recommended to color your hair before having a keratin product applied to it, rather than after.
Highlights After Keratin Treatment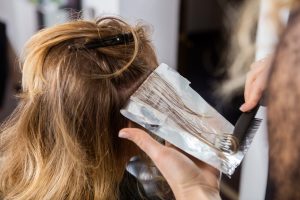 As with coloring your hair, highlights should be avoided immediately after a keratin treatment. Depending on the color of your highlights, they'll either not take at all or come out looking more like spots.
Decide on a plan for your highlights before having your hair therapy done. You can even do them right before your treatment.
But again, if you want to add color to your hair after treatment, even if it's just in the form of highlights, you should wait at least two weeks before doing so.
Keratin or Highlights First, Which Is Best?
The answer to this question will always be applying highlights first. As I've already mentioned, adding highlights right after a keratin treatment will not give you the results you want. In fact, having your highlights applied first has its own list of benefits.
If you highlight your hair right before your treatment, you'll actually be extending the life of your streaks. This is because the keratin procedure will help seal the color in, making it more of a permanent change rather than a temporary one. Also, you can expect your highlights to look more vibrant when done before a procedure.
But if you forgot to schedule a highlight appointment before your keratin treatment, you can still get the results you want as long as you wait at least two weeks.
Most keratin therapies last at least three months so it doesn't hurt to wait a little longer. The longer you wait, the better your highlights will look.
But if you want highlights that look like they belong on the red carpet, having them added before your procedure is ideal.
Bleaching Hair After Keratin Treatment
Can you color hair after a keratin treatment?
We know the answer is after a few weeks. But something you should never do is bleach your hair after a treatment. Going lighter almost guarantees that you'll be stuck with patches, which is not a good look for bleaching.
There's really no way around this. If you really want to bleach your hair after a keratin therapy, you're just going to have to practice patience. While you should wait two weeks before coloring or highlighting your hair, for bleaching, you're going to have to wait until the effects of your hair treatment are no longer noticeable.
If you're stubborn, don't attempt to bleach your hair yourself. Go to a salon so they can prevent serious discoloration and potential damage.
Hair Toner After Keratin Treatment
Here's where you get a pass. It's normal for your hair to turn a bit brassy after a keratin treatment, especially if your hair is on the lighter side. To combat this, use purple shampoo. This will get rid of the yellow undertones in your hair.
While you need to wait at least two weeks for other treatments after administering keratin, you can use a toning shampoo right away. Just remember that you can't get your hair wet for a full 48 hours after your hair therapy. But after this window, you should be good to go. Use the shampoo once a week until you see the results you're after.
So can you color hair after a keratin treatment? If you're still not sure, speak to a stylist. They'll be able to help you get the results you want without ruining your treatment or hair.
Just remember that in most cases, you'll need to have plenty of patience. If you want to learn more about how to properly apply an at-home keratin treatment, click here.
I sure hope you learned something from this blog. Hope to see you in our other posts!