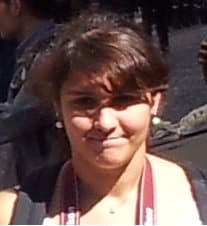 Skin is amazing when it feels and looks good but what happens when you notice small imperfections? It can stop you feeling your very best and that's not good.
A cautery pen or TagBand Kit for skin tags might be the answer to those little blemishes that make you feel insecure! Acrochordons, or skin tags as they're more commonly known, are tiny growths that hang off the skin. Skin tags are completely harmless but can be unsightly.
Women in particular are prone to skin tags as they age so it's a very common condition, though it's nothing to be ashamed of!
Our Pick
Fiab Disposable Sterile Cautery Pen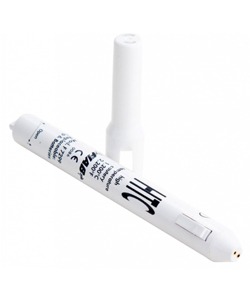 This product has a high temp fine tip which is perfect for removing skin tags within the comfort of your own home. It heats really nice and consistently. plus it is really well priced.
Women, in particular, are prone to skin tags as they age so it's a very common condition, though it's nothing to be ashamed of!
Affecting mainly the neck, armpits, groin area and around the bra line – they don't hurt but can become irritated if they rub against skin or clothing .
It can be annoying and expensive having to visit the doctors to have these blemishes removed. Removal usually has to be done privately as it is considered to be a cosmetic procedure. But not anymore!
A cautery pen or TagBand Kit can be used in your own bathroom could be just the answer. And here is exactly why!
First a few facts.
What is a TagBand Kit
TagBand is an innovative skin tag removal at home device that can be used on the face and body.
This simple design allows for anybody to remove skin tags quickly and safely in the comfort of their own home.
TagBand works by stopping the blood supply to your skin tag. It only takes about 7 days to "kill" the blemish.
Once the tag darkens in color simply remove it with a small nail clipper. The procedure doesn't hurt.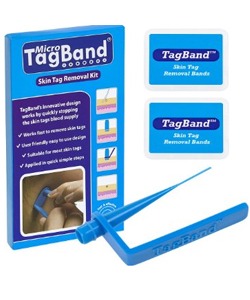 Buy for $$$ on Amazon
You should expect an itchy sensation, but never any pain. As long as you keep the tag clean with hot water and antiseptic twice a day then you should avoid any infection.
How to use a TagBand Kit
Before you use the TagBand clean the skin tag and surrounding area with one of the cleansing pads provided.
Remove one of the small rubber bands and roll it up the cone (from the small end to the large end) until it reaches the top.
Slide the cone through the hole on the L shaped band remover until you reach the rubber band.
Place the hole of the cone over the skin tag.
Slide the L shaped band remover as far as you can up the cone until the band pops off and is securely fastened to the skin tag.
The band will immediately start to cut off the blood supply to the skin tag, resulting in it falling off after around one week.
The product comes with:
1 x TagBand cone, 1 x TagBand remover, 10 x TagBands, cleansing pads and easy to understand instructions.
This is one of the best skin tag removal products on the market.
It produces amazing results every time and I would strongly recommend it.
Although you can use this product on your face, we advise that you avoid the sensitive area around the eyes.
What is Cauterization
Cauterization is the process by which an instrument, usually a cauterization pen or similar, is heated electrically and then applied to the tag to burn its cells, causing it to drop off.
The area is cleaned thoroughly and numbed before treatment, so the procedure should be completely pain free.
Of course instructions should be followed closely to ensure it is done safely as the pen heats to a very high temperature, so be careful when using at home.
How to Cauterize Skin Tags
A electocautery machine or electric cautery pen is very easy to use but once again should be handled with care.
Cauterizing a skin tag takes a little preparation but it pays to take the time to do it properly.
It's a good idea to have the following tools to hand: tweezers, numbing cream, topical antibiotic, cotton wool and adhesive bandage.
First, apply anesthetic to the skin surrounding the skin tag. I tend to use alidocaine cream as I know it works well.
This process is optional as smaller tags produce less pain, but I personally recommend numbing skin first.
Next, grasp the skin tag carefully with your tweezers. Lift and hold away from the skin base, making sure the stalk is easy to see and access.
Turn on your high temperature cauterizing pen and allow to heat. You'll find the tip glows red almost instantly. I can't stress enough to take your time and be careful!
Bring the heated cautery tip toward the stalk. Hold against the skin to cauterize thoroughly.
Any slight bleeding should also be cauterized.
Finally, apply antibiotic to the area with sterile cotton wool. Cover the area with bandage.
And you're done!
Fiab Disposable Sterile Cautery Pen with High Temp
Private surgery, no matter how minor, can be pricey and if you're one of those prone to these pesky little imperfections it can all start to add up.
The Fiab cautery pen is a fine tipped tool perfectly designed to use on even the tiniest skin tag, in the comfort of your own home.
And now it could be the answer to recurring issues of this nature!
The Fiab heats to a very high temperature with the gentle press of a button, within seconds.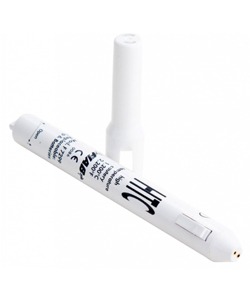 Buy for $$ on Amazon
Which means if you've prepped for your in-house surgery, this shouldn't take any time at all. The Harline unit is the same length and width as a regular pen so is easy to hold and control whilst performing a removal.
It comes both in disposable form, or in a chargeable battery tip version. You might wonder what qualifies me to talk about this product with confidence? Let me share!
My mum suffers from regular skin tags on her back that make her feel self conscious. Her doctor told her she would have to go private to have them removed because it's considered cosmetic surgery.
It seems silly to have to pay every time just for the doctor to use a tool almost exactly the same as the Fiab. So we did some research and this one has the best ratings, making it the obvious choice! We've now used the Fiab several times and it works fantastically.
Of course I was nervous the first time as I was worried about the heat but as long as you're mindful, it's surprisingly easy. It couldn't do the job better in fact! I've also used it on myself since and it works a treat.
With a numbing agent the whole procedure was pain-free and over in minutes. What's more the tag falls off with minimal bleeding and I've suffered no scarring.
Cautery Pen Conclusion
I never thought I would be performing minor surgery in my own bathroom but the Fiab cautery pen is so easy to use and so effective.
If electrocautery is something you're interested in I would recommend this product any day.
If you have any doubts about the area you wish to concentrate on, or are not sure that your blemish is a skin tag, I would consult a doctor first.
As with all medical procedures, approach cautiously and read all instructions carefully.
I hope you're as satisfied with this purchase as I am!
Related Posts
2. Apple Cider Vinegar For Warts