Tips On Finding The Best Salsa Shoes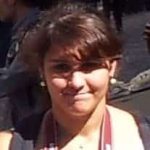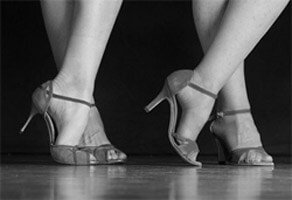 Like with any type of dance, if you plan on dancing salsa, it is important to have the right kind of footwear. Regardless of whether a beginner or an expert, the right footwear enables the chance to move gracefully. But given the number of options for sale out there, it may be difficult to choose the right pair for your feet.
OK, so exactly what is Salsa dance? Well, in a nutshell it is a Latin American dance that has been around since the mid 1970's, and one which requires plenty of movements. The dancer shifts their weight by stepping, whilst the upper body stays level and somewhat unaffected by the occurring weight changes. This is the reason why good salsa dance shoes are lightweight, comfortable, and flexible.
How is it different from other footwear? Well, simply put, they are flexible, but firmer than other types of dance shoes. Not everyone is familiar with the different selections and abundance on the market, so it takes much experience and knowledge to have the ability to make valid buying tips on buying the best salsa shoes. So, without further a-do, simply consider the below and you'll be fine:
6 Tips On Choosing Your Perfect Salsa Shoes
#1 The Fit And Sizing
There is absolutely a need for fit and the sizing to be perfect for salsa moves. What exactly is the perfect fit? Well, the shoes should wrap tight like a glove. It is imperative that feet have no excess movement when dancing, because this will lead to inefficiency in pulling moves, or even cause foot injury. On the flip side, if they are too tight, this will lead to bunions and other potentially painful foot conditions. Perhaps to begin with they fit rather snug; this will most likely stretch eventually when you start using them more often. Also, be sure to check the sizing of the brand you are choosing. Different manufacturers may give a different size chart. However, it is common practice that your Latin dance shoes will be the same as your everyday street shoes. If you have narrow feet, consider going down half a size. If your feet are a bit wide, then consider the opposite, and go half a size higher.
#2 Comfort
If you are going to dance for hours, might as well consider your comfort. One of the things to be very particular about is the breathability of your feet. This is why it's good to look closely at the overall design. There are types that offer holes to allow feet to breathe and not get too moist with sweat after hours of dancing. Most are open toe, so ventilation is more than adequate, but nonetheless keep this factor in mind.
#3 Raised Heel Design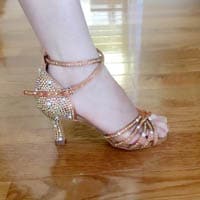 Salsa dance requires you to put much weight on your foot. One of the best features of any well-designed Latin dance shoes are an elevated heel. This makes movement easier for the dancer. Not to mention, it allows to smoothly transition your foot's placement and adjust posture easily. Both men and women's designs have a heel height of around 1 to 2 inches. Wedge style is commonly used even by men. This type of Latin dance shoes gives the foot enough contact to the ground while giving proper elevation on the heel to allow precision in dancing. On the other hand, the Cuban heel, or more popularly known as the standard ballroom shoes also work well. For women, it is important that the heel is wide. Flared heel design gives women the opportunity to dance while the footwear allows the individual to have good weight placement.
#4 Durability
If you are planning to regularly dance and make frequent use of your salsa shoes, it makes sense to consider the durability and potential lifespan of your footwear. Of course it's a bonus if the shoes last a good number of years, however, unfortunately not all brands are of the same quality nor is each two design made the same. Consider the material carefully if you plan on investing on the right salsa dance shoes, because a good pair can last for quite some time whilst cheap ones will fall apart very quickly. In general, when asking the professionals, they will consider leather as the best salsa shoes because they offer a mixture of both great comfort and durability.
#5 Price Range
Let's be practical, many dancers are not yet at professional level, so investing a whole heap of money as a student or for hobbying can be perhaps not the best idea. For those who are simply doing salsa for fitness or fun, there are cheaper alternatives to leather such as those which make use of synthetic uppers. If you can afford more, pay more because the quality will generally be better.
#6 Sole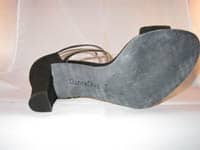 Many dancers are very particular about the sole of their shoes. Suede and leather are two common options that are very popular. This allows the dancer to step, spin, and do the necessary maneuvers required. If you are a beginner, leather can be rather slippery and may take a few lessons before getting used to it. But of course, also make sure that the soles don't offer too much traction since this can pose a risk of getting injured. When considering suede soles, keep in mind that you will need to clean them now and then, given the fact that it tends to collect grime on the dance floor. To keep the suede soles in perfect condition, you will have to use a specially designed suede sole brush for this scenario.
Conclusion
When choosing to invest in the best salsa shoes, always remember that there are different designs available on the market, and some will be better than others. Certain factors may be more important to the wearer than the other, such as price, durability or aesthetics. Keeping all of these things in mind, different dancers have various tastes and preference when it comes to their footwear. So, with the above pointers that we have mentioned, take time to study designs and options whilst sticking to your requirements; hopefully you will find the right pair.