PerioMed Stannous Fluoride Rinse: The Mouthwash For Dry Mouth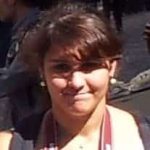 There's nothing like the feeling of a fresh and healthy mouth. Lots of products on the market promise to give you exactly that, but can fail to deliver.
But how are you supposed to know which one is right for you? And more importantly, what works?
Don't worry, I'm here to help you make the right choices when it comes to oral care! I've discovered two great stannous fluoride rinse products which will fast become part of your oral health routine.
They will make you feel much more confident about your smile – that confidence will shine through into everything you do, trust me!
First, let's talk antimicrobial mouth rinse and how to use it, shall we?
How to use stannous fluoride dental rinse
Stannous fluoride rinse is medication applied to teeth to prevent tooth decay and cavities.  This great solution is completely fuss free to use. All you have to do is dilute with water and rinse!
Generally flavoured with mint, this rinse is refreshing and pleasant to the tastebuds, while highly effective in fighting tooth decay, Gingivitis and a whole host of unappealing dental ailments.
This is a product that should live in every bathroom, ready to promote optimum dental health at all times!
For best results, always thoroughly read the instructions on your dental product before usage.
Stannous fluoride vs. sodium fluoride
Increasingly, dentists are recommending the use of this multi-purpose ingredient over sodium fluoride. You must know, Fluoride is responsible in making teeth stronger. It the mineral that makes it resistant to tooth decay due to bacteria and acid.
Sodium fluoride is one common flouride. It is used in many mouth washes and toothpastes.
Although sodium fluoride does fight cavities, stannous fluoride offers antibacterial properties and helps with the reduction of tooth sensitivity, improves and prevents Gingivitis, and battles the buildup of plaque.
One of the key advantages of this type of fluoride is its ability to rebuild tooth enamel.
This hardworking ingredient continues to be active up to eight hours, continuing the fight for a fresh and healthy mouth long after you've rinsed!
Let me share my favourite products currently on the market.
Quick Comparison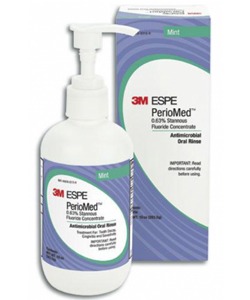 3M PerioMed Stannous Fluoride Rinse 0.63%
$$$
Rating
PerioMed is a super effective antimicrobial mouth rinse concentrate designed to help combat Gingivitis, tooth decay, hypersensitivity and plaque formation.
Its key ingredient is stannous fluoride which places it one step ahead of traditional mouth washes. It's fresh minty taste provides up to 8 hours of antimicrobial protection.
This Stannous Fluoride rinse has a mild minty flavour that promotes long term use and makes the whole process of dental care much more pleasant!
And since this amazing oral product doesn't contain alcohol it helps prevent dryness of mouth and fight further dryness complications.
This brand of dental rinse comes in an easy-to-use pump action bottle designed to dispense exactly the right amount for your needs.
Simply dilute this concentrated solution with water as directed and enjoy the feeling of a fresh and healthy mouth for the rest of the day.
I love running my tongue over my clean teeth – and as someone who lives with sensitivity, I have noticed a massive difference in just over a couple of months.
Although I have heard that some products can cause light staining, with regular brushing twice a day, I have yet to notice any on myself.
This mouthwash for dry mouth has made a lasting impact on me and has now become a permanent fixture in my bathroom cabinet.
I highly recommend this product and have already passed on my findings to one of my best friends, who suffers from the same oral concerns. Not anymore, though!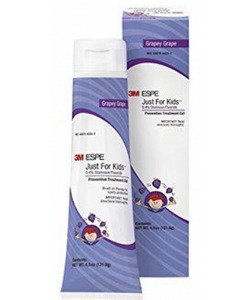 3M PerioMed Stannous Fluoride Omni Gel 0.4%
$$
Rating
This fantastic brush on gel treatment is a total winner! Omni Gel brush on gel aids in the fight against tooth decay, promotes remineralisation and significantly reduces cavities.
In this easy-to-use brush on format, you simply apply this minty treatment onto teeth and wait for it to work its magic! The key with fluoride, as advised by my dentist, is to spit but not rinse afterwards. This way it can continue working after brushing.
A must for people who prefer a brush-on treatment. Omni Gel is designed especially for cavity-prone youngsters, so can be used by children and teenagers alike.
A great brush on gel to share with your loved ones, to ensure the whole family are cavity free! I apply this before bed and leave it on overnight 3 times a week.
My husband has started to do this treatment and loves the minty taste. We love this brush on gel!
So there you have it, my take on these two amazing dental products. They are both super easy-to-use and have both become a permanent part of my oral routine.
I basically can't stop smiling! Have you tried one of these stannous fluoride rinse or toothpastes? If you do, let me know what you think!