How to Use Essential Oils For Frizzy Hair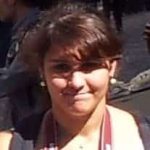 I don't want to be known as the girl with frizzy hair.
But it takes a lot of work to keep my locks under control.
I've tried just about every product on the shelf, but after doing some research, I came across a product I never would have thought of.
Have you ever used essential oils for frizzy hair?
They're versatile, natural, and most importantly, effective! Stick with me as I teach you all about essential oils for frizzy hair.
You'll soon be a believer!
What Are Essential Oils?
Essential oils are the natural extracts of plants, herbs, fruits, vegetables, and more. An essential oil is normally made by steam distillation.
Think of them as a concentrated oil full of all the beneficial compounds found in some of the most common natural ingredients.
Essential oils are nothing new. They've been used for thousands of years to treat a variety of ailments.
They've been in the background of Western medicine, but as more people begin to search for natural treatments, they're beginning to make a very strong comeback.
If you've never used oils for hair, skin, or health reasons, you might be missing out on one of Mother Nature's best gifts.
What Are the Different Types of Oil Available?
There are hundreds of essential oils available. Some are easy to find and are very affordable, while others are nearly impossible to track down and may cost a small fortune.
Essential oils are usually made from plants or herbs, but you'll see some that don't fall under either category.
Here are some of the most popular oils you'll come across:
When it comes to finding the best essential oils for frizzy hair, the following are ideal:
What Causes Frizzy Hair?
Frizzy hair is usually caused by humidity, but even those of us in colder climates can suffer.
Frizzy hair can also be caused by poor hair care. If your hair products contain harsh chemicals or you use heated styling tools without taking the proper precautions, your hair can begin to get that frizzy look we all despise.
The best way to combat the frizz is to keep hair moisturized and healthy, which most essential oils can do.
How Do Essential Oils Help Fight Frizzy Hair?
When you use essential oils for hair, you're using a completely natural product. I've found that I can rely on essential oils for just about anything, so I've eliminated most store-bought products from my bathroom.
I'm doing my part to prevent damage, and the oils step in and keep my hair moisturized and clean. Most essential oils combat oil, dirt, bacteria, and more, so by creating a healthy growth environment and preventing damage from happening in the first place, it's easy for the oils to moisturize my hair and keep frizzy hair a thing of the past.
If you're after a natural anti frizz for curly hair solution, essential oils are it.
How to Apply Essential Oils for Frizzy Hair
Don't run out and pour a bottle of essential oils on your hair. You have to keep in mind just how potent these products are. Usually just a drop or two of the best essential oils for hair is all you'll need to treat your frizz.
But how do you spread just a few drops of oil throughout your entire head?
You'll need to use a carrier oil, such as coconut oil, grapeseed oil, sweet almond oil, or sunflower seed oil. I personally use coconut oil because it's affordable, smells great, and is easy to spread through all of my hair.
You'll want to do treatments either at night or on a day where you don't have any plans. When it's time to rinse, use warm water and a gentle shampoo. Using essential oils for hair can take a little trial and error, but once you get it down, you'll never look back.
DIY Essential Oil Serum for Frizzy Hair
Want more information on how to use essential oils for hair? Here's my top-secret essential oil serum recipe. I use it at least twice each week, and the results are truly amazing!
Ingredients
2 ounces jojoba oil
3 drops rosemary essential oil
3 drops bay essential oil
3 drops cedarwood essential oil
3 drops patchouli essential oil
2 drops cypress essential oil
3 drops ylang ylang essential oil
Directions
Mix all ingredients together. Store in a glass bottle in a cool, dark place in between treatments. To use, take about a teaspoon, more or less depending on your hair length and thickness, and massage it onto your scalp first.
As you're finishing, run the oil through the length of your hair as well. Let the oil soak for about half an hour before rinsing.
How to Avoid Frizzy Hair in The First Place
Some of us are more prone to frizzy hair than others. But if you want to keep frizz at bay, try these tricks I've figured out over the years regarding how to get rid of frizzy hair:
Use a sulfate-free shampoo
Don't blow-dry soaking wet hair
Use heat protectant before using heated styling tools
Avoid getting caught in the rain
Keep up on moisturizing treatments
Even if you do all of the above and more, you might still experience a frizzy hair day now and again. But with essential oils, you'll be able to keep those days few and far between.
You'll also be treating your hair, and the problem, instead of masking it like so many other products do.
Other Benefits Essential Oils Have on Your Hair
Essential oils aren't just for frizzy hair. There are plenty of other benefits associated with these awesome products, such as the following:
Dandruff Fighter
Many cases of dandruff are caused by scalp infections. Essential oils can help eliminate the infection and improve scalp conditions.
Hair Growth
If your hair is thinning or just not growing fast enough, essential oils for hair can help. You'll need to be diligent with this treatment.
It usually takes at least six months to see results when using essential oils for hair growth and thickness.
Overall Hair Health
Essential oils have many healing properties and can help leave hair healthier than it's ever been before. They're a natural product that helps hair remain full of life and shine. You can also use essential oils for dry hair. Plus, you can use essential oil infused products such as the Paul Mitchell Tea Tree Hair and Body Moisturizer and more.
Ready to try using essential oils for frizzy hair?
You'll be blown away by the results, and you'll love the compliments. Just be sure to share your secret. There are enough essential oils to go around! So let's banish bad hair days for good!
Related Post
2. How To Use Jojoba Oil for Hair Growth
3. How To Use Jojoba Oil for Acne