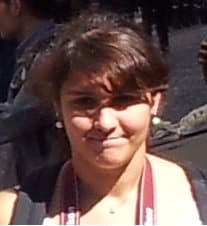 If there's one household name that echoes loud throughout the world, it is Nike. Founded in 1964, it has since become one of the biggest and most valuable names in sports with a worth of $19 billion. One of the most popular brands in the sportswear industry, they not only make some of the best running shoes but also are renowned for equipment and clothing too.
In this brief post we have taken upon ourselves to review the 10 top Nike running shoes so far in 2017, for both men and women. Please note, the designs and colors you see below are not exhaustive, each shoe has many different available color combinations:
Nike Running Shoes For Men
Nike FS Lite Run 3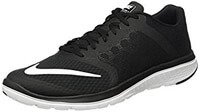 The Nike FS Lite Run 3 is a great option for both serious runners, and those who just began their fitness journey. This shoe is known for its durability and comfort. It offers optimal flexibility that helps support lateral movements, thanks to its mid-sole design. It also has a rubber sole that offers optimal grip and traction on road or treadmill, making it perfect for different types of surfaces regardless if it is on the street or on the court. In terms of comfort, it has a synthetic mesh material that ensures that your feet stay cool and ventilated even during intense training sessions whether outdoors or in the gym.
Nike Free 5.0+ Breathe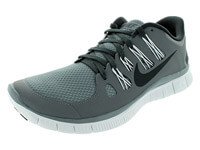 One of the most popular and best Nike running shoes for men is the Free 5.0. It is undoubtedly a great shoe if you plan on making running a regular part of your fitness regimen, offering foot strengthening benefits while providing a cushion that can help absorb the shock of continual heel impact. These are also very lightweight, which makes it a great choice if you are looking for footwear that you can run with for hours. It has a textured mesh full inner that is designed for a dynamic sock-like fit. Also, an asymmetrical lacing system has been integrated to help reduce the pressure on top of the foot. And with its rubber sole, it is perfect for different types of surfaces thanks to the tread pattern and traction.
Nike Revolution 3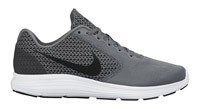 The Nike Revolution 3 is meant for neutral to underpronators who need additional support and cushion to their feet. It has a mixed mesh upper and light synthetic overlays in order to ensure the comfort on the runner at all times. It also has a lace up closure that ensures that the sneakers are intact while you run, whatever the distance. It also offers excellent fitting which has been perfected after extensive research and development. The Revolution 3 is perfect regardless if you are going to run on a treadmill or you plan on running on the road. It also offers a breathable fabric that ensures your feet to feel cool and dry even when you use it during intense training.
Nike Roshe One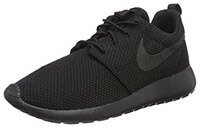 The Nike Roshe One is a durable option especially for someone who runs long distance, or even for continual and regular short distance runs. It offers decent mileage while providing the right amount of support that you will need on your feet. It also offers superb comfort especially for those who love to perform high-impact activities on the feet regardless if it involves running, walking for miles, or a bit of jumping. It makes use of mesh material guaranteed to keep your feet cool despite working out on a hot sunny day. It also makes use of cushioned phylon soles that delivers the best comfort on your feet. In terms of aesthetics, it looks clean and stylish, making it acceptable for both athletic and casual footwear.
Nike Air Max Tavas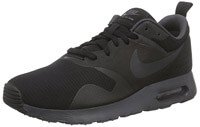 The Nike Men's Air Max Tavas is another great option if you plan on making sure that your feet are protected during your runs. This shoe is designed to be easy to wear and easy to take off with its pull on tab design; it offers superior quality of materials, not to mention aesthetically appealing modern looks. It also makes use of advanced technology that enables the runner to train efficiently on different types of surfaces. It is a versatile shoe that gives you the opportunity to look good while you run. These men's Nike Air Max running shoes can be used both as athletic or everyday fashion that you flaunt wherever you go.
Nike Running Shoes For Women
Nike Free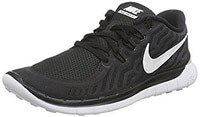 Nike Free is the type of footwear perfect for the female's feet. It has been designed based on Nike's research on the barefoot. A relatively high shaft exists for added ankle protection and a seamless mesh upper for reduced irritation. It was crafted using Flywire technology that gives snug and flexible feel to the footwear. The flex grooves found in the phylon midsole helps enhance the runner's motion correcting his or her stride. It also has a rubber outsole that gives you the opportunity to run with dependable traction on road or treadmill. Available in almost every color combination you can think of, there is surely no reason not to opt for the Free if you're after a pair of Nike's.
Nike Air Zoom Pegasus 32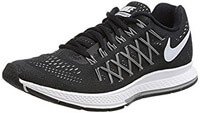 Comfort, style, and overall durability are some of the things that you can expect from the Nike Women's Air Zoom Pegasus 32. The lightweight mesh upper makes for a breathable and well ventilated choice which keeps feet free of sweat and fatigue. This one offers Zoom Air Units, which offers enhanced deflection of impact on the feet from heel strike to toe off, giving you the opportunity to have a less of a hard time when running. It is also combined with a cushion midsole that helps provide comfort. Available in tens of color combinations, overall the Pegasus 32 is high on our respect list.
Nike Revolution 2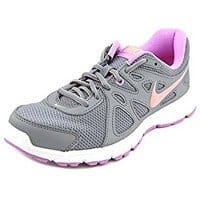 Reliability is something that the women's Nike Revolution 2 offers. It has mesh material upper that can help the runner comfortably run even in a hot weather. This model makes use of synthetic leather too for lightweight properties without sacrificing on durability. With both its materials, the shoe does a great job in keeping the feet dry and protected at all times. It also has a padded footbed and phylon midsole that ensures comfort to the feet mile upon mile. And with Nike's superb traction technology adopted in its rubber sole, it allows you to get the most out of your activity without the risk of slips even through the wettest conditions.
Nike Flex 2015 Rn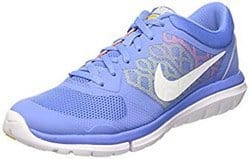 If you are a serious runner, the Nike Flex 2015 Rn women's running shoes are a great option that will compliment your fitness goals. It has the ability to provide superb mileage while keeping the stress out of your feet. It also offers durable materials that are guaranteed to last especially if you are someone who regularly runs whether on a treadmill or on road. With ergonomics in mind, it has comfort that helps minimize the soreness in your feet despite running for hours. In terms of fitting, this one is for feet with normal width, and may not be the best option if you have narrow or wide feet. However, one thing to note for those with flat feet it provides an excellent arch support.
Nike Downshifter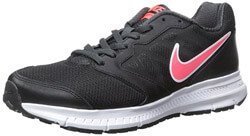 The Nike Downshifter running shoes for women is an ergonomically designed footwear that allows you to feel comfortable even in the most tiring workout. It helps give the feet comfort with its superb cushion technology, unparalleled as you can expect. It is also a breathable shoe which allows the feet to stay dry and healthy even when you are running in hot weather conditions, and since it is designed as an everyday running sneaker, you can expect a good number of miles on this product.