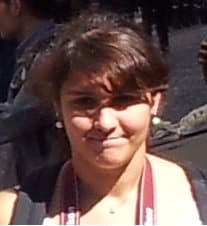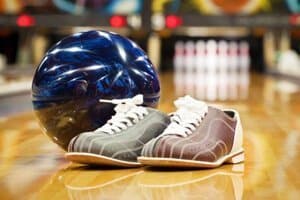 Bowling is one of America's favorite sports. Not only in the US, but all across the globe people of all ages are eager for a night out with family and friends for what we have grown to love as a social activity.
Whether you're playing for fun or professionally, having the best bowling shoes on your feet can certainly improve your game and make you look great at the same time. However, finding top rated recommendations all in one place can be difficult, which is why we have gathered them here to save you the hassle. Check our top tips and reviews below for some of the hottest selections on the market in 2017.
The Top 10 Bowling Shoes Compared
A Few Top Tips
Buying bowling shoes can be a breeze, but only when you know how. Here are some hot tips:
– Left Or Right Handed?
The most important thing to keep in mind when choosing the best bowling shoes is that there are ones designed for right handed and left handed bowlers. If you are a right handed bowler then your right shoe will be the one doing all the braking. On the other hand if you are a left handed bowler the shoe on your left foot will do all the braking. There are also something known as universal shoes. These are designed with a braking feature (traction) for both feet, as well as some amount of sliding on both soles. These are generally cheaper and are designed to work regardless of whether you are a right handed or a left handed bowler. So if you are a casual bowler this might be what you need.- Creating Slide
You have also to consider how much you want to slide, if at all. With most indoor sports the footwear is focussed mainly on grip. For example, basketball and indoor soccer shoes require that be utmost grip for best performance. However with bowling it's quite different. Some bowlers prefer to a slide a little when releasing the ball. That gives them better throwing position and more control over the ball. If you naturally slide, more than others do, then there is no point in buying a pair that slides. You can opt for more traction. If you prefer your footwear to slide a little, then go for a flatter sole.
– Choosing Soles
There are heels which are slightly raised and having an inclination. These are the type that will slide a bit more. But professionals prefer the type of shoes that have interchangeable soles. These are truly versatile, but can be very expensive, especially if you are a weekend bowler.
Reviews: Bowling Shoes For Women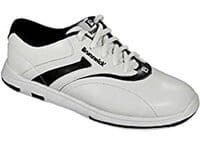 The Brunswick Silk is designed with a soft durable man made upper material which ensures that it is comfortable enough to wear for prolonged periods of time without any discomfort. This shoe comes with an EVA midsole and a special Komfort-Fit construction design from Brunswick. The padded tongue and collar comes with a textile lining which also adds to the comfort factor. The Silk's come with non-marking rubber outsole and with microfiber slide pad on both feet that is powered by the FlexSlide technology. The design is a universal one, is available in black or white color options, and also has a wide width option for those with wide feet.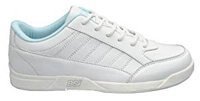 BSI are known for making some of the best bowling shoes for women, and the 422 is one such design. They possess a tough and durable rubber outsole which is lightweight and means they can be worn without discomfort for long sessions on nights out or during practice. The sole is a common sliding microfiber design which ensures that it gives the right amount of slide for better control at the time of ball release. For treating the feet, the interior has an extra plush insole / sock lining. This model runs slightly larger than regular sizes and so it is recommended you order a full size smaller than your regular size.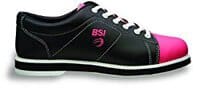 Designed with sport leather uppers and featuring padded tongue and collar, the BSI #651 women's bowling shoes are designed for extra slide. The sliding soles are both stitched and then glued for maximum durability no matter how enthusiastically you play. For added comfort and padding the midsole is a lightweight EVA design. A BSI logo is embossed on to the upper which shines proud. The design comes in almost all of the regular sizes starting from 5 all the way to 11.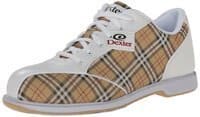 The Dexter Ana is a comfortable fitting pair of bowling shoes for women, designed out of synthetic material. It comes with a universal sole design which means it would work for you regardless of whether you are a left or a right handed bowler. The entire material used is synthetic but the upper is crafted out of soft man-made and synthetic suede which makes them not only light but also gives a premium feel for a low cost. The Dexter Ana comes in an array of colors and designs, making you stand out from the crowd in style.
Reviews: Bowling Shoes For Men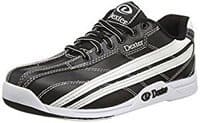 The Dexter brand enjoys an enviable position in the market, arguably having a lion's share of the whole segment. The Dexter Jack is one such model which adds to their kudos. Made of synthetic material, the upper is implemented using a soft yet durable man-made material. The interior has a fully fabric lining. Plus it has a padded tongue and collar which ensures that the wearer finds it very easy to wear it for longer duration. A non marking rubber outsole exists with an extra-long S8 microfiber slide soles on both feet. These are also available in wide width if required.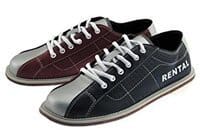 Designed for both comfort and control as much as to show-off the retro aesthetics, Classic Rental is the perfect bowling shoes for men that anyone would love to wear whenever hitting the alley, especially because the stitching and the laces actually react in black light. The material used to create these is synthetic and the upper is crafted out of soft durable man-made material. The blucher upper pattern allows for a comfortable fit. These come in two color options and are also available in a women's variant too for those of us who'd like to own rather than rent.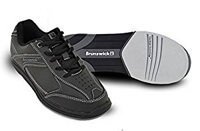 The Brunswick Flyer men's bowling shoes adopts a universal design, meaning there is microfiber slide pad underneath a non-marking rubber outsole which is powered by their FlexSlide technology. This feature means the Flyer is perfect regardless whether you are a right or left handed bowler. A stylish exterior is crafted out of synthetic material; the man-made upper is soft and extremely durable, so they should last for many trips down the bowling alley. The padded tongue and collar comes with textile lining for additional comfort. Overall, a great pair to own at a decent price too.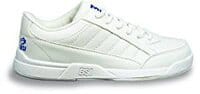 The BSI Basic #532 is a pair of boys bowling shoes (toddler to boy size) that are made of premium quality action leather which ensures better quality from ever-demanding consumers. For the outsole, BSI have used a tough and durable lightweight rubber. Lightweight is an important requisite as you have to be nimble on your feet when firing those balls down the alley. The soles are universal sliding made out of microfiber, meaning you can wear them regardless of if you are a left handed or right handed bowler.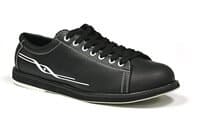 Better than your average rental (and less smelly too), the Pyramid RAM is a new design which has the uniqueness of an easy break-in sole. This helps in a controlled slide that enhances your control over the bowling action and release of the ball. Made with a universal design in mind, both right and left-handed bowlers will be able to use this without issues. Another bonus that you will likely not find with other reviews here is this one comes with no less than 2 years of warranty. Also available in white.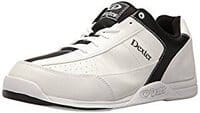 The Dexter Ricky III is a lightweight (15 ounces) and stylish pair of bowling shoes for men that are manufactured using a soft and durable man-made upper. They are designed for withstanding long and frequent sessions without any discomfort for the wearer. As expected from Dexter, the non-marking rubber outsole with a defined heel ensures a controlled slide; an S8 microfiber slide sole takes care of this. Slide pads are on both feet. Inside, the Dexter Ricky III has a full fabric lined with padded tongue and collar for maximum comfort. Although the men's version is under review here, there is also a kids option for sale. These can also be found in black, black with red, and wide fit too.