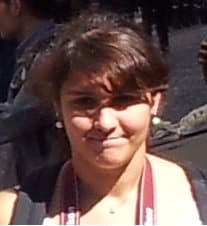 This article is an Ameda vs Medela reviews and comparison. Ameda and Medela are two of the most popular brands when it comes to breastfeeding. Before we compare these two remarkable brands, here are quick details about them:
Ameda

Ameda – More than 75 years ago, a Swedish engineer, Einar Egnell made it his life's work to help breastfeeding mothers. After years of research, Egnell created the first comfortable and effective breast pump that closely mimics the suckling rhythm of nursing infants. In the process, Egnell also created the vacuum and cycling standards that have since become the industry benchmark.
Medela

Founded in 1961 by Olle Larsson in Zug, Switzerland, Medela continues to grow under the ownership of the Larsson family. The company entered the United States more than 25 years ago. Medela provides the most technologically advanced, superior-quality breast pumps and breastfeeding accessories to nursing mothers around the world. A longtime champion of breastfeeding, Medela is the only company to develop products based on research by the world's leading lactation experts. As a result, Medela's breast pumps are the number one choice of healthcare professionals and healthcare facilities worldwide. More Medela accessories and parts here.
Ameda Products vs Medela Products
Both Ameda and Medela are trusted brands plus they are popular and well rated, that is why moms love them so much. Not all mothers are privileged enough to be able to purchase and get the chance personally use and compare each product from brands. That is why at pumpingdoctor.com, we are always ready to help you with choosing and considering which will be best for you. The key features presented in this article are taken directly from their respective websites so you'll know we didn't make them up.
%CODE555%
 Side by side comparison
| | | |
| --- | --- | --- |
| | Ameda Finesse | Medela Sonata |
| Price | $249.00 – $299.00 | $349.00 – $399.00 |
| System | Closed system | Closed system |
| AC Adapter | Yes | Yes |
| Settings adjustment | Dial | Touchscreen buttons |
| Display | None | Touchscreen display and illumination |
| Bag | Tote bag | Shoulder bag |
| Weight | 1 lb. | 2.2 lbs. |
| Material | BPA and DEHP free | BPA free |
| Bottle Holders | None | 2 |
| Speed and suction control | Separate control | Separate control |
| Single and Double Pumping | Yes | Yes |
| Operate on Battery | Yes | Yes |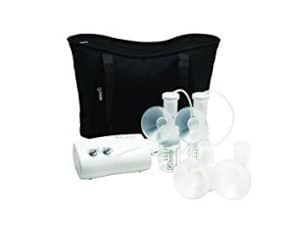 Rating: 4.1
Key Features:
Comfortflow™ technology for a smooth and more consistent sensation, meaning more milk
Quiet Technology
HygieniKit® Milk Collection System: Proven FDA-cleared barrier designed to protect the pump, tubing, and bottle against mold and viruses
Separate speed and suction dials with 32 fully customizable options for multiphase pumping
Adaptable for single or double pumping
Easy-to-clean surface, contemporary look
Power with AC adapter (included) or AA batteries (not included) for worry-free access to pumping
Reviews:
The Ameda Finesse is a light-weight, personal use double breast pump that has the option to run on batteries making portable and easy to use even when on the go. It features the technology and pump rhythm of the Ameda hospital grade pump, the Ameda Platinum. This makes the Finesse very comfortable to use and very efficient!
It comes with a ton of accessories including a tote bag making this a great option for moms who are on the go! This Ameda breast pump also boasts quiet technology which makes pumping less noisy. The Ameda Finesse is a great pump with a lot of features and accessories, although some mothers do not love the dial settings. This will work great for working moms and mom who need to pump a lot. It is portable, comfortable, and a strong pump.
Rating: 4.3
Key Features:
Double-electric, daily-use breast pump, designed for moms who pump several times a day
2-Phase Expression Technology with one-touch let-down button which provides more milk in less time when double pumping when compared to single pumping in the expression phase
Connects with Smart Solution to the MyMedela app
Our quietest personal-use breast pump allows for discreet pumping anywhere
Hospital performance
Touchscreen display and control illumination for easy operation
Rechargeable Lithium-ion battery for convenient pumping anywhere, anytime
Reviews:
The Medela Sonata is a double electric, single-user breast pump. It features their hospital grade technology from the stand-out Medela Symphony. Most mothers love and appreciate that this pump is extremely light and compact, making it easy to carry and use. The Medela Sonata has a very effective pumping action and comes with clinically tested rhythms. This allows mothers to choose which one will work more effectively for her. This pump is also extremely quiet, therefore letting you pump without disturbing other people around you.
The best thing about the Medela Sonata is that it makes pumping effortless. Mothers don't have to know how to manually set your pump to stimulation and expression modes as you would with a pump that has manual dials. The Sonata starts out automatically in stimulation mode and switches to expression mode for you. And there is a Letdown button which you can press if your milk lets down before the 2-minute setting.
 Side by side comparison
| | | |
| --- | --- | --- |
| | Ameda Purely Yours Ultra | Medela Pump in Style Advanced |
| Price | $120.00 – $150.00 | $229.00 – $299.00 |
| System | Closed system | Open system |
| AC Adapter | Yes, included | Yes, included |
| Settings adjustment | Dial | Dial |
| Display | None | None |
| Bag | Carry tote | Tote, backpack, metro bag |
| Weight | 5.9 lbs. | 7 lbs. |
| Material | BPA and DEHP free | BPA free |
| Bottle Holders | 2, built-in | 4, built-in |
| Speed and suction control | Single control | Separate control |
| Single and Double Pumping | Yes | Yes |
| Operate on Battery | Yes | Yes |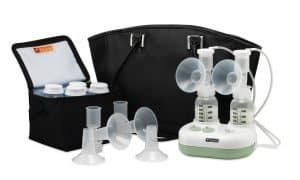 Rating: 3.8
Key Features:
Proven Airlock Protection™ barrier helps protect milk while keeping pump tubing dry and clean. No need to clean the tubing.
CustomControl™ empowers moms to more closely mimic their baby's nursing rhythm. Moms have complete control
of their cycle, both suction and speed, to select the best levels for their milk flow and comfort.
2 built-in bottle holders.
BPA-free and DEHP-free
Reviews:
The Ameda Purely Yours is a closed system pump that has an adjustable speed and suction to find the best setting that will fit every mom. This breast pump is extremely compact and lightweight, plus this comes with a tote bag that includes a cooler with an ice pack and six storage bottles that can fit just right into the bag.
The Ameda Purely Yours has also three power options which include AC power, battery, and car adapter. Although this is a closed system, there are lots of small parts which are difficult to clean and prone to breaking and damage.
The suction of this pump is also quite good but mothers will have to get to know this pump before being able to comfortable with it since the motor of this pump has dials instead of buttons for adjusting and setting but once everything will be fine for you, this pump will be good to go.
Rating: 3.7
Key Features:
2-Phase Expression technology with one-touch let-down button. Medela breast pumps feature research-based and patented 2-Phase Expression technology which is shown to get more milk when double pumping.
Double-electric breast pump, designed for moms who pump several times a day
On-the-go Tote & Backpack have a built-in pump
The Metro Bag has a removable pump: For portable, discreet pumping
Three stylish microfiber bags to choose from (On-the-go-tote, Backpack, or the Metro Bag): Holds everything you need to pump
Battery pack
Single knob speed/vacuum adjustments, for comfortable pump settings
Removable cooler bag with a contoured ice pack which holds 4 breastmilk bottles and ice pack to keep breastmilk bottles cool
All parts that touch breastmilk are made without BPA. Safe for you and your baby
On-the-go Tote also features:
– Built-in bottle holders
– Tubing storage pocket: Help prevent spills and keeps tubing organized between pumping sessions
The Metro Bag also features:
– Two sizes of Personal Fit™ breast shields
– Removable pump in a separate bag
– Work surface and mesh storage bags: For pumping and transport flexibility
Reviews:
The Medela Pump in Style Advanced breast pump is a double electric breast pump with an integrated carrying case, this pump also works best for moms who express milk several times a day. The Medela pump set (some sets may vary) includes tubing, battery pack with storage cage, AC adapter, four Medela bottles, breast shields, two valves, four membranes, two personal fit collectors, four bottle lids and a cooler with an ice pack.
This double electric pump is perfect for every mom who pumps a lot since it is designed to be used several times a day and as a double pump. Another plus for these portable breast pump is that its bag is insulated and comes with a reusable ice pack that fits four breast milk collection bottles. This feature helps a lot if you don't have a refrigerator available in your workplace and it also keeps your milk cold and keeps the bottles upright as well so you won't have to worry about spillage.
When it comes to style, this breast pump provides a selection of black microfiber style bags. This includes the Back-Pack, On-the-go Tote, and The Metro Bag. Not only that this breast pump is really chic and portable, this stylish pump delivers too. Tons of mothers rave about how efficient this breast pump is, from the double pumping ability to its two-phase expression.
Product: MANUAL BREAST PUMPS
Side by side comparison
| | | |
| --- | --- | --- |
| | Ameda Manual Pump | Medela Harmony |
| Price | $31.49 | $41.99 |
| Weight | 5 ounces | 14 ounces |
| Material | BPA and DEHP free | BPA free |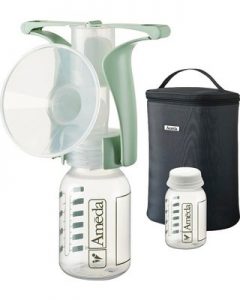 Rating: 4.1
Key Features:
The ergonomic design of the one-hand handle allows mothers to achieve multi-phase pumping by varying handle squeezes to mimic their baby's nursing rhythm
Ergonomic swivel grip reduces muscle fatigue
Pump directly into any standard milk storage bottle, container or freezer bag
Compatible with Ameda CustomFit Flange System™
For single pumping, occasional use
BPA-free and DEHP-free
Reviews:
The Ameda manual pump is extremely lightweight and is ideal for moms who are looking for a compact and easy to carry the pump. Assembling this breast pump is a very easy and the breast shield is already attached to the pump. This manual pump boasts its versatility when it comes to collection, this can directly pump to most branded and standard baby bottles.
The handle is set at a very different angle than with most pumps so it takes some getting used to if you have been used to the traditional models before, but it works fine once you have gotten familiar with it. A drawback to this pump is that after a few of uses, the handle starts to squeak a bit load. The issue is easily corrected, though, by applying a bit of Vaseline or any lubricant to the pump joints.
Since this unit doesn't have two-stage pumping it will be somewhat less comfortable to use over the long term, but putting that aside, this pump is still comfortable enough. Cleaning is very easy as well.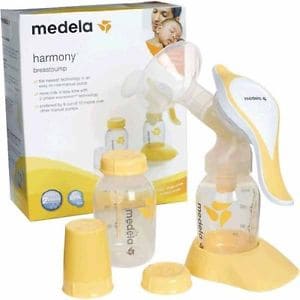 Rating: 3.5
Key Features:
Single manual pump best for occasional time away from baby
2-Phase Expression Technology for more milk in less time when pumping at Maximum Comfort Vacuum™ in the Expression phase
Soft-touch, ergonomic swivel handle for comfort
24 mm PersonalFit™ breast shield, other sizes available separately
Bottle stand which helps prevent spills
All parts that come into contact with breast milk are made without BPA made safe for mom and baby
Reviews:
The Medela Harmony is quite unique compared to other manual breast pumps since Medela has found a way to implement the same computer-controlled "two-phase expression" approach in a manual pump. The Harmony's manual-tech approach is to provide two separate pumping levers, one for a let-down and one for expression; you simply use the first, shorter lever to start and switch to the longer lever when the milk is flowing.
The Medela harmony is very easy to use. As long as your hands can pump very well, you'll find that you can express milk as quickly and efficiently as with an electric pump. Putting the unit together is easy, the pump and swivel handle attach to the collection bottle, the collection flange attaches to the pump, and then you are already set to pump. It comes apart in seconds, too, and is easy to clean and dishwasher-safe.
The breast shields aren't padded, but this is still a very comfortable pump to use since you control the speed at which it expresses milk, and the two-stage design lessens breast soreness. Another thing this Medela pump is awesome for it is how quiet it is. All manual units are going to be much quieter than electric ones, but the Harmony is totally and extremely quiet. You truly can use it anywhere without other people, who are not looking, notice that you are pumping.
Product: HANDS-FREE BRAS
Side by side comparison
| | | |
| --- | --- | --- |
| | Ameda PumpEase | Medela Easy Expression |
| Price | $42.99 | $39.99 |
| Size range | S, M, L, XL | S, M, L |
| Material | Polyester and spandex | Soft nylon and spandex |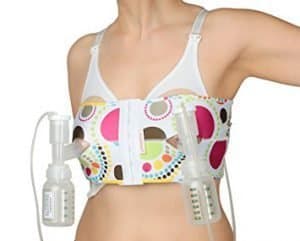 Rating: 5.0
Key Features:
Patented 'no-stitch' openings fit a full range of flange sizes, including Ameda flanges
Three position hook and eye closure adjusts for changes in breast fullness
Supports hand-compression and massage of breasts
Soft, stretchy fabric maintains fit through product use
Wear over a nursing bra for convenience
4 sizes (S, M, L, XL) – fits moms sized from 32AA to 48H and beyond
The ideal time to be fit for your pumping bra is 36-40 weeks or at least 2 weeks postpartum
Machine washable and durable
Fabric content: 88% polyester. 12% spandex, exclusive of trim
Reviews:
PumpEase hands-free pumping bra is not a bra in itself, but rather a support that is designed to fit over your nursing bra when it's time to pump. It's designed to work with a nursing bra. The PumpEase hands-free pumping support will hold your breast pump in place as securely and comfortably for your pumping session while keeping your hands free so that you can continue to work.
Attractive, cute designs and fun colors that are available and it comes in a wider size range.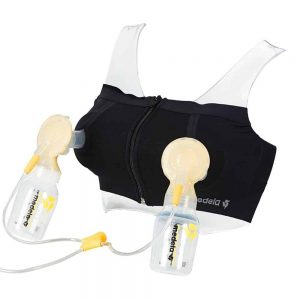 Rating: 4.0
Key Features:
Adaptive Stretch that adapts to your body to provide exceptional fit and comfort
Soft nylon, spandex blend that feels ultra-soft next to skin
Reinforced openings which offer superior no-slip support
Integrated top hook which makes it easy to zip up
Oeko-Tex® certified, safe from harmful chemicals
Easy care, machine wash cold in a garment bag on gentle cycle. Tumble dry low.
Designed for use with all Medela double electric breast pumps. Including Pump In Style®, Freestyle®, Symphony®, Swing™ and Lactina®
Reviews:
Similar to the Ameda PumpEase, the Medela Easy Expression is not a bra but rather a support that is designed to be used with nursing bras. This bustier gives enough support during hand-free pumping while you are doing other chores and even at work. Medela is a good choice with a slightly cheaper price tag. This is a good option if you are working with a budget.
Side by side comparison
| | | |
| --- | --- | --- |
| | Ameda Store n Pour | Medela Pump and Save |
| Price | $10.49 | $7.99 – $19.99 |
| Capacity | 5 ounces | 14 ounces |
| Material | BPA free, DEHP free | BPA free |
| Seal type | Zipper seal | Easy close zipper seal |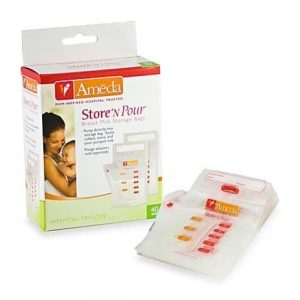 Rating: 4.1
Key Features:
Easy-close zip seal so bags won't leak
Unique tear-and-pour spout helps prevent spills during milk transfer
No more sticky tape or twist ties—unique flange adapters easily attach to pump kits and channel milk flow below the zip seal to prevent milk loss
Gusseted bottom allows filled bag to stand on its own
Freezer safe
BPA free, DEHP free
Reviews:
The highlight of these breast milk storage bags is the unique pour spout design which makes it super easy to transfer the milk from the bag to a feeding bottle after thawing. Although these milk storage bags were made with only a single easy to close zipper seal these bags still a multi-ply design that helps avoid splits, tearing, and leaks. A starter kit (sold separately) comes with a pump adapter that allows mothers to pump directly into the Ameda storage bags.
The Ameda Store N Pour milk storage bags are smaller than other brands and can only hold an approximate of five ounces but many mothers have experienced that they are not able to fill up to 5 ounces since the bags become prone to leaks when it is filled and it makes them difficult to lay flat and stack inside the freezer. These milk storage bags are made with extra thick BPA free plastic, its thickness helps the bags stand up on their own freeing moms from needing extra hands to get milk transferred into bags.
These bags are budget friendly and are a perfect choice for moms who are collecting breast milk but cannot pump as much since these bags are small so their milk would just fit right without wasting too much extra space in the milk storage bag.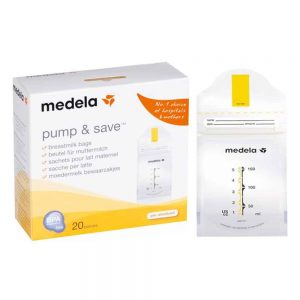 Rating: 3.0
Key Features:
Pump or pour into bag, save time with fast, easy breastmilk storage
Compatible with most Medela breast pumps (Sonata™ breast pump excluded) with easy-connect adapter connects directly to the breast shield
Convenient design for no-spill, no-leak, easy-to-close zipper top
Protective oxygen barrier, perfect for fridge or freezer
All parts that come into contact with breast milk are BPA free
Reviews:
The breast milk storage bags from Medela are very easy to use and very convenient since they easily attach to any Medela pump for direct pumping into the milk storage bags. These storage bags are made of durable BPA free plastic and are double walled for long-term storage. The simple design of the leak-proof double zipper seal makes the bags easy to close and seal, these bags are also made with a high-quality bottom to prevent and avert spills.
Some mothers have issues on how little these storage bags can hold, the Medela breast milk storage bags can hold up to five ounces but some mothers claim that they get left with only three to four ounces since these bags leak when filled to its maximum capacity. So if you are a mom who pumps quite a lot in one sitting, these bags might not work well for you. If not stored up to its maximum capacity, the Medela Pump and Save bags freeze and thaw well without leaking.
The Medela Pump and Save breastmilk storage bags have a protective oxygen barrier to preserve the nutrients and maintain the freshness of your expressed breast milk. These storage bags also has a good space for labeling and stand up well or lay nicely flat in the freezer or the refrigerator for a good space saving storage.
CONCLUSION
Both Ameda and Medela are good choices when it comes to breastfeeding products. They differ mostly only on the price tag and some features but all in all, they are both helpful in your breastfeeding journey, you just need to choose and decide which of them will work best for you in terms of budget and certain features.