Babyganics and Earth's Best – The best Eco-friendly diapers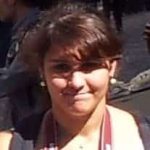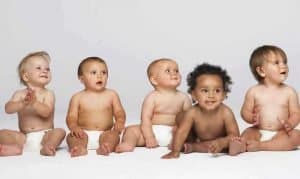 Choosing the right diaper can be a headache for parents, especially for the new ones. It is a fact that the wrong diaper can be hard not only for your baby's skin but also to the environment as well. And we have to admit; diapers can be hard on the budget too. So it is important that you only spend on the diapers that will work well with you for your baby. Babyganics and Earth's Best diapers are made to be better versions of the usual baby diapers. They are designed to fit your, and your baby's changing needs, and they are also eco-friendly!
The Babyganics ultra-absorbent diapers are made of their blend of plant-based materials. The Earth's Best diapers, on the other hand, are also made of exceptional renewable resources. These diapers are both intended to offer superior fit for the comfort of your precious little one. In this post, we will be sharing the wonders of these eco-friendly diapers. Not only that, but we will also include some tips and tricks for your diaper duty.
The Babyganics diapers
Babyganics diapers are known to be eco-friendly. These diapers are made from plant-based ingredients that are entirely renewable and completely natural. Babyganics ultra absorbent diapers is a product that continues to work with a spark and a purpose. The brand owners think and believe that every baby deserves to grow up being well cared and also continue to thrive on a planet that is also thoughtfully being taken care of.
"Today, we're a company run by two dads, Kevin and his childhood friend Keith. As entrepreneurs and fathers with five kids between them, they have a shared sense of purpose: to create products that parents can feel great about using around their babies and that they can find and afford. Kevin and Keith and the whole Babyganics team come to work every day knowing we're helping parents everywhere just like ourselves create a world where all babies can happily crawl, splash, touch, wonder and satisfy their baby curiosity. We love knowing that every day, new parents like you discover our products and join our mission: to help your babies grow boldly!" –Babyganics
The brand continues to look for different ways to use recyclable, recycled or sustainable packaging materials without compromising product quality and efficiency.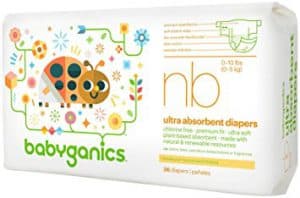 These newborn ultra-absorbent diapers are made from plant-based materials. They are designed to be entirely comfortable and fit for newborn babies. With enhanced ultra-absorbency, mothers will worry no more about possible discomfort, irritations, and urinary tract infections as well.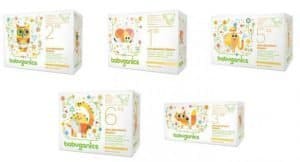 These range of ultra-absorbent diaper are made from plant-based materials comes in different sizes that will surely perfectly fit your babies. They are designed to be comfortable for your little ones.They are also leakproof so that your babies can crawl and play without worries. With enhanced ultra-absorbency, mothers will worry no more about possible discomfort, irritations, and urinary tract infections as well.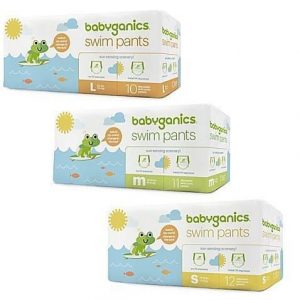 Babyganics Swim diapers is a way for babies and even mothers to have fun under the sun! These swim diapers cover and protect in the pool, ocean, lake and feature a special sun-sensing scenery that changes with initial and prolonged UV exposure. The swim diapers are very comfortable and easy to use as well since you can slip them on your baby. You don't have to worry about sagging since they are made with a sustainable core material that will prevent swelling and sagging.  
Babyganics diapers pros
These diapers are very comfortable and soft. Because of the seed oil blend in the Babyganics diapers, they do not tend to be harsh on baby's skin. They do not cause discomfort and will not irritate baby's skin.

They are made of organic and plant-based quality ingredients. That is why these brands will be best if your little ones have skin issues or sensitive skin. The organic ingredients in this product also excellent for baby's developing skin.  These diapers are hypoallergenic too.

These diapers are faithful to "ultra-absorbent" product description since the Babyganics diapers hold up well even when wet. You don't have to constantly worry about leakage since this also has a diaper leak control together with its premium absorbency.

They are budget friendly. Despite its excellent quality, these Babyganics diapers won't break the bank especially if you get them in bulk. Although these are not that cheap, these diapers will be worth the price.

Babyganics diapers do not contain chlorine, latex, petroleum-based chemicals, fragrance, and dyes. This will be good not only for your baby but the environment as well.

These ultra-absorbent diapers are truly easy to use. They have very stretchy and elastic sides with a soft material that will make diaper changing a breeze.

They offer swimming diapers so that your baby will get to the enjoy the beach or pool without getting you worried about unexpected poop and pee.
Babyganics diaper cons
They are pretty much expensive than Earth's Best diapers.

These diapers, although they are organic, are not entirely biodegradable.

Since these diapers are organic and made from natural materials, they tend to break a lot easier than the other brands. Natural and organic products are more fragile, therefore easy to cut. Because of this, you might need to change your babies diapers more frequently.
Earth's Best diapers
Earth's Best is a known brand to provide all the best not only for babies but the environment as well. With their organic products that are inspired by nature, they ensure to protect the Earth through sustainable production practices. Earth's Best is dedicated to making products that are "better" for baby. They ensure that these diapers are very gentle on your baby's skin and will make you feel confident in caring for your baby.
"From the day that Earth's Best® was founded in 1985, we've been recognized as a brand dedicated to offering wholesome, safe products for little ones. We believe that babies deserve only the ultimate best. Earth's Best TenderCare Chlorine-Free Diapers are safe for your baby and the environment. These disposable diapers are not made with chlorine bleaching agents, which may contribute to dioxin pollution. Also, Earth's Best diapers use 20 percent fewer petrochemicals than traditional disposable diapers. In fact, if 10 percent of the disposable diapers in the U.S. were as environmentally sensitive as Earth's Best diapers, we could reduce the consumption of petrochemical-based materials by as much as 20 million pounds a year." – Earth's Best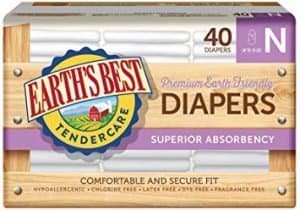 The Earth's Best Tendercare diaper for newborns is made for babies up to 10 lbs. They have breathable sides and moisture barrier cuffs designed for your newborn's comfort. These newborn diapers are comfortable and very absorbent. It has soft and stretchy panels will provide a secure fit. They are free from dangerous chemicals, so they are very gentle on baby's sensitive skin.
These comfortable and absorbent diapers come in a range of sizes to choose from that will best fit your baby. Earth's Best diapers are chlorine free, latex free, fragrance and dye free. They are safe and gentle for baby's sensitive skin. They also provide a useful and secure fit with breathable sides to keep your baby comfortable and dry.
Earth's Best diapers pros
They have a reasonable and cheaper price for an eco-friendly and organic diaper.

These diapers are very absorbent even when at an angle they will not leak. So you will be sure and confident that even when your baby is at play or laying down. They also have good absorption speed.

Earth's Best diapers are free from harmful materials such as chlorine, latex, dyes, and fragrances. They are very safe for babies who have sensitive skin.

The materials are made from renewable resources.

The Earth's Best diapers are soft and gentle on skin that's why they never or rarely irritate babies.

The easy-to-use and stretchy side panels make diaper changing a breeze.

The correctly fitted and elasticized leg holes help in preventing unwanted leaks.
Earth's Best diapers cons
Users complain about the non-standard sizing of the diapers. Sizes are said to be smaller.

The diapers are eco-friendly but are not entirely biodegradable.

The Earth's Best diapers do not have a wetness indicator.

Although this brand has a cheaper price tag than most eco-friendly diapers, it still looks a lot less expensive for its given price.
What Babyganics and Earth's Best can offer
Babyganics diapers
Premium absorbency
This is a critical feature that moms look for when choosing a diaper. Being absorbent is such a life-saver when it comes to diapers since it tends to be worn by your baby for a more extended period than those diapers that will not absorb very well. With this, you can save a few dollars and get to help in decreasing waste too.
Premium and comfortable fit
The premium fit of the Babyganics diapers lets babies enjoy their play time. It keeps babies warm whether they are playing, crawling, and sleeping.
Neo nourish seed oil blend
This blend of tomato, sunflower, cranberry, black cumin, and raspberry seed oils. The Neo nourish seed oil blend helps in soothing, protecting, and nourishing your baby's skin. Even when wearing diapers.
Chlorine-free
It is a good thing that the Babyganics diapers are chlorine free since chlorine produces dioxins. Dioxins are toxic chemicals that can cause cancer; these dioxins may end up in our environment and possibly in our food.
Latex-free
Some babies are allergic to latex that is why a diaper that is latex free is a perfect choice. If your baby is not allergic to latex, it is still nice to choose the latex free diapers since latex allergy may be developed over time.
Plant-based ingredients
Babyganics always start with plant-based and plant-derived ingredients to create products and diapers that will be effective. At the same time, parents will feel confident and safe everytime they use these Babyganics products on their babies.
Wetness indicator
A wetness indicator reacts to the exposure of liquid and serves as an indicator when the diaper needs changing. It is a  plus if a diaper has a wetness indicator to help parents decide if their babies need replacing or not.
Leak control
Leaks can give discomfort to your babies and stress to you as well. That's why it is nice that Babyganics have created a diaper with leak control to reduce and prevent leaks from happening.
Good size range
Babyganics provide a diaper for newborns and has sizes from 1 to 6. With this size range, you can choose which of them will be the best fit for your baby. This brand also makes diapers for swimming, and that's a plus too.
Cost-effective
The Babyganics diapers' price may be on the higher end, but they're worth it!
Earth's Best diapers
Superior absorbency
A good diaper should be super absorbent, and the diapers from Earth's Best will never fail parents when it comes to this absorbency. The Earth's Best diapers are equipped with superior absorbency that benefits both babies and parents.
Chlorine-free
Similar to the Babyganics diapers, the Earth Best ones are chlorine free too. It is nice to know that by using these diapers you also avoid the production of dioxins. As mentioned earlier, dioxins are incredibly harmful carcinogenic substances. And we don't want those kinds of chemicals near out babies.  
Latex-free
Anyone who has ever experienced or faced a latex allergy is already aware of how dangerous it can be. So apparently you would never want your babies to suffer that. Just like the Babyganics diapers, these by Earth's Best are also latex free. Parents will be relieved knowing that the diapers they are using are latex free for their babies' safety.
Dye-free
Earth's Best does differentiate itself with its feature of 'dye-free.' Being unique, Earth's Best diapers are plain white and also picture-free. They have considered that certain chemical dyes have been found to be dangerous not only on babies but also harmful to the environment. Earth's Best is a stand-out choice in this regard.
Perfume or fragrance-free
'Perfume-free' is a common feature seen in baby products.  The primary concern with perfumed baby products is the presence of phthalates. These phthalates are substances that have been found to cause cancer at high exposure levels. Although the FDA has not yet linked a direct impact on human health from phthalates. (D. Chapline)
Leak protection
Earth's Best diapers also boast of having a moisture barrier cuff for effective leak protection. Many parents have been happy and satisfied that these diapers have a very comfortable fit and are leakproof. Diapers providing leak protection also means less wetness which makes creates lesser chances for babies to get diaper rash.
Size range
The seven sizes (from newborn then size 1 to 6) offered by Earth's Best are another plus.Parents will get to choose which will best fit their babies from the full range of sizes.
Cost-effective
This brand of eco-friendly diapers are cheaper than the Babyganics ones, but they are as useful and as good.
Things to consider when buying your baby's diapers
Your baby's age
Baby's age is one of the most important factors to consider when buying diapers. The same with choosing the right baby formula or right bottle and nipples, it is also important that you choose the diapers or pull-ups that is appropriate to your baby's age and stage of development. And it is also important to consider how mature your child already is. Some toddlers may still be wearing diapers while the other kids of the same age are already doing good in potty training. It is important for parents to consider their child's development when buying diapers.  
Size range
Another thing is size. Every child doesn't grow at the same rate either. Two kids can be the same age, but completely different sizes. Knowing how big or small the child can help parents pick the right size diaper for their child according to their measurements and not necessarily their age.
Practicality
A perfect diaper should also be practical; it should work for both parents and babies. Parents will have to consider their time and money. They would also have to decide according to their babies' wants and needs if the baby would prefer pull-ups rather than those with the adhesives. Also, the parents' time and schedule should be considered; if you are a parent who is mostly at work or too busy, then you should opt for the disposable ones rather than the cloth diapers that need washing and preparing. It is truly about trying which will be best for you and your baby, and once you get a hang of yours and your baby's needs, it should be easy.
Ease of use
Choosing a diaper that is easy to use and wear on babies is also an important thing to consider. Other family members, babysitters, and friends as well should find diaper changing easy for them too. If you are a parent who needs to leave your baby with a babysitter or with granny, you must choose a diaper that is comfortable for baby and truly easy to use as well.
Baby's skin reaction and response to the diaper
It is important to consider how your baby will react to wearing the diaper. It should be observed if your baby is comfortable with it if he or she has been crying a lot. A very uncomfortable, ill-fitting, or itchy diaper can cause a lot of stress not only for babies but the parents as well.  All babies have sensitive skin, but some are a lot more sensitive than others. Some materials and components of the diaper can bring out a variety of reactions from your baby, such as rashes, itchiness, and even allergic reactions.
When choosing a diaper, parents should pay attention to the materials that it contains. If your baby does not have a pleasant response to the first diaper, there are a variety of other brands that can be chosen from. And if you are not sure, you can always seek help from pediatricians, dermatologists, or other healthcare providers for professional advice.
Price and budget
Money is a significant matter. For parents, it is very important to choose a diaper that will be fit for their budget. Also, parents should look at the quality of the diaper that they're buying and should not always opt for the cheap ones without the quality. There are a lot of affordable brands in the market that offer diapers with good quality and safe materials.
Comfort
Comfort will be the most important thing that parents want for their children. Diapers are mostly worn throughout the day so it is very important that babies will stay comfy from day to night. Almost all diaper brands create their diapers to be as comfortable as possible. Parents will have to observe which kind of diaper will be most comfortable for their little ones.
Diaper material
This factor will relate to the above mentioned, baby's skin reaction and response to the diaper. The materials used in the diaper should be safe and free from toxic substances. It should also be free from allergens. No parents would want to put any harmful substance around their babies. But worry not since there are brands that offer diapers that are not only safe for babies but the environment as well. There are many diaper brands to choose from.
Diaper changing tips and tricks
Equipment needed for diapering:
Changing pad. You can make your change pad by covering a certain flat surface with plastic. You do not need to spend on a change table, but if you have the money and resources, then it would be better.

Clean diapers. Avoid buying too many diapers of the same size since babies grow quick. What's best is you buy a sufficient week supply.

Baby wipes and washcloths.

Diaper lotion or cream.

Garbage bag or can be intended for your baby's used diapers and wipes. Of course, you should not forget to properly dispose of the used diapers. They are not pleasing to look at if they are laying around the house.  
Diapering technique:
Collect and prepare your equipment for diaper changing.

Lay baby comfortably on a changing pad.

Loosen the diaper tabs.

Grasp baby's ankles with one hand, lift the legs and bottom.

Remove the diaper with your free hand.

Use your wipes or wet washcloths to clean the diaper area. For females, gently wipe from the front of the diaper area to the back, using a clean part of the cloth with each wipe. For males, simply wipe the outside of the penis. There is no need to retract the foreskin.

Slide a clean diaper under your baby's bottom, gently lifting baby by the ankles. The back of the diaper should be at the level of baby's belly button.

Once baby's bottom has dried, coat baby's bottom with a thin layer of diaper cream. Try to avoid applying the cream to the diaper, as it will prevent it from absorbing the liquid.

Bring the front of the diaper up to baby's belly and fasten the diaper tabs from the back to the front. It should be snug enough to prevent the diaper from leaking, without being uncomfortably tight.

If you have a boy, be sure to tuck the penis downward before fastening the diaper. The diaper may leak if the penis is pointing up.

To allow air to dry the cord, fold the top of the diaper down before fastening it.

Wash your hands well after each diaper change. 

Source: Cindy & Jana: Diapering Tips for New Parents
Other Tips and Tricks:
Entertain your baby while changing diapers. A little storytelling and singing will do the trick. This will decrease baby's stress during the diaper change.  

If you use an elevated surface for diaper changes (like in public restrooms or diaper changing areas in malls), never leave baby unattended.

If you observe a diaper area that is reddened or irritated, use a washcloth and water to cleanse, rather than baby wipes.

Air-drying for a few minutes after diaper changes can help to heal an irritated area. Place a towel or diaper under your baby as they often wet when exposed to air.

If baby's bottom remains reddened after air drying and using zinc cream for a few days. See your healthcare practitioner if it persists as it may be an infection.

When you have a baby boy, you may want to protect yourself by placing a washcloth on top of the penis during diaper changes to avoid an unexpected peeing.

You do not need to change the diaper after every feed if the baby has fallen asleep. Diapers are quite absorbent, and barrier cream protects their skin. 

Source: Cindy & Jana: Diapering Tips for New Parents