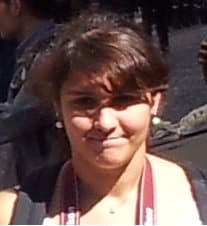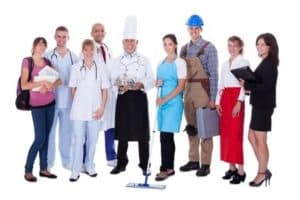 Whichever industry you're in, there are some jobs which require a huge amount of time being spent standing. I personally am a Nurse, and can attest to the amount of time I spend on my feet each day. I would estimate spending more than 75% of the time on my feet whilst working 12 hour shifts three days a week. So the amount of time this equates to is 27 hours of my 36 hours spent at work, is time spent on my feet. While this is a lot, it doesn't compare to the amount of hours spent on my feet when I was in the Army, but that subject is for another story.
As a Nurse I am always on the move, answering the call of patients in need, and responding to emergency situations. There is always something happening that requires my attention. One thing that I have found which is extremely important is having the best shoes within budget. While it may not seem very important to some of you, ask anyone who spends much time standing at work and they will tell how important it is to have a pair of comfortable shoes through those long shifts.
To help you along, here we compare and review some of the best shoes for standing all day whether you're a retail manager, a Nurse or gym instructor, these should hopefully be fit for your job.
The Top 10 Shoes For Standing All Day Compared
Shoes For Women
Shoes For Men
Buying Guide & Advice
– Which Are The Best Type Of Shoes?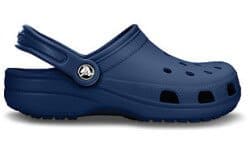 There are many things to consider here, such as your job role, dress code and working conditions. Many of my fellow colleagues have their preferred nursing shoes. Some prefer to wear crocs (see inset pic) which are probably the most common you will often see in the hospitals. While they are super comfortable, due to aesthetics they may not suit everybody's taste and will definitely not suffice certain jobs where smart footwear is required. One of the main things to consider is how you will use them. Obviously they will be worn on your feet, but more to the point, think about your requirements at work. A retail manager in a clothes shop may need something smart, whereas a store assistant can dress down a bit, whilst a construction worker will need to consider safety. Ultimately it all boils down to comfort and style.
– What Shoes Should You Be Wearing?
While this of course is your own personal opinion, when it comes to choosing the best shoes for standing all day there are certain things to consider. For example, how easy are your shoes to clean? Do they offer support for long periods of time? Do they break down easily? Do they fit your personality? For my working conditions and dress code thankfully the footwear requirement is very flexible. I personally prefer a pair of good running shoes; I have found they offer great support and don't break down very easily. Running sneakers are great in my opinion and there are so many brands and types to choose from, that you would be hard pressed not to find the right pair for yourself.
From anyone elses point of view depending on the industry you're in, logically it's the same characteristics to look out for. Are they supportive? Are they breathable? Are they of good quality leather, synthetic or mesh? Do they have good grip? How about arch support or wide toe box? These are all questions we'll cover in the reviews below.
– Why Wear Good Shoes?
Support is the number one thing to look for in a pair of good shoes for standing. For Nurses, the material being able to be cleaned is also important because nurses deal with some nasty stuff at times. Also, longevity is key so don't buy cheap shoes that are unlikely to last the rigorous usage. Choosing something to suit your personality is important; as mentioned previously, we nurses like to express ourselves through our shoes. I am no different and will sometimes find some crazy designed footwear simply for this reason.
– Where To Buy Your Shoes?
So where to buy your comfortable, cleanable and supportive shoes which are also good for standing? Well, there is the obvious answer, online. It offers pretty much any shoe you could dream of. They have boots, loafers, clogs, slip-ons, running shoes, flats, pumps, Oxfords and just about any other type of shoe you could ever want. Walmart and Target also offer a wide selection where you could easily find something you might like.
– How Often To Change Your Shoes?
Buying work shoes can be a topic of debate for many employees within the workplace. For starters when your Oxfords or sneakers do not offer you support any more, than it is time to buy new ones. If you do not, then you are setting yourself up to have foot and back pain. A majority of people fail to realize the importance of owning good standing shoes which have the ability to aid gait, offer balance and sufficient padding. This may sound hard to combine with desirable aesthetics and suitable attire but this isn't the case. Being on your feet all day doesn't mean there has to be a sacrifice for any of the above. Simply check our reviews below for the top 10 which have been separated into women's and men's for ease.
Top 10 Women's Shoes For Standing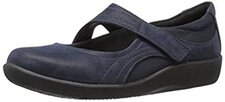 A stylish option for women with jobs and activities that require them to stand for a long period is the Clarks CloudSteppers Sillian Bella Mary Jane flat shoes. This slim and sporty footwear is perfect for different occasions regardless if you'll use it for your casual days or with a sundress. What makes the CloudSteppers standout is the ortholite technology that helps support the user's feet. It is also made of a flexible and breathable material that offers nonstop comfort. Aside from being the perfect footwear for prolonged standing, it can also be the perfect footwear for walking on the beach or boardwalk.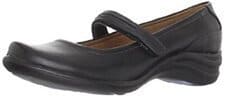 If your work requires long hours of standing, the Hush Puppies Epic Mary Jane casual shoes are the perfect option for you. It is lightweight, not to mention has shock absorbing feature that promotes comfort both for your feet and other surrounding structures in the lower extremities. What makes this footwear a great option is the fact that it is made of smooth leather upper and was combined with textured full grain leather. Not only does it look classy, it is also durable and is perfect for people with occupations that require them to stand for long periods of time.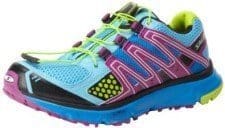 These vibrant running shoes for women come in five very colorful combinations that are sure to stick out. It is made up of synthetic material and offers a slip resistant rubber sole. It is designed to hit the hiking trail as well as withstand the many hours of standing that you'll put in. The breathable mesh material is designed to ensure your feet never get too hot no matter where you are. A foam formed footbed reduces the overall friction whilst the quicklace system ensures that no matter the situation you will always be ready to go. Probably one of the best shoes for standing all day of the 10 on this list, the Contagrip technology is designed to grip any surface with ease. Shipping weight is a mere 2.2 pounds making it one of the lightest running shoes on the market.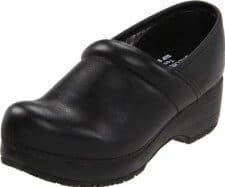 A typical example of some basic closed back clogs which proves that sometimes simpler is better. These women's Skechers (style 76501) are made from leather and comes in three different color variations being Black, White, and a High Gloss Black. Whether in a retail job or hospital worker, these are one best shoes for being on your feet all day and there's plenty reason why. The leather is designed to feature a wood like texture and has a flat form sole with a padded opening to prevent chaffing. The insoles are cushioned and removable while they offer a slip on and easy to clean design which is paramount for nurses or other working conditions where they may soil easily. This particular model also offers electrical protection so an added layer of security. With a shock absorbing midsole and a slip resistant technology that meets OSHA standards these are probably the safest of their type on the market.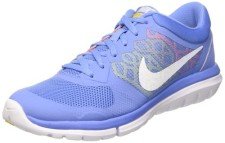 These mesh imported synthetic running shoes offer great support and protection for those of us who are on their feet all day. The Nike Flex 2015 comes in more color combinations than I could count and I am quite certain that anyone could discover the right design and color for themselves. The upper is comprised of a light weight mesh material that offers breath-ability, flexibility and featherweight comfort which is almost expected from any Nike running shoes. The midsole is comprised of an adaptive and supportive fit that is formed of a webbing system. The insoles are removable and replaceable if custom orthotics are required by the wearer. Users reported a great deal of support throughout the entirety of the shoe from heel to toe box. Not only are these sneakers great for running but also for getting through your lengthy shift or walk home.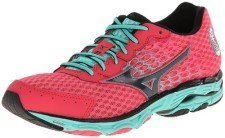 The Mizuno Wave inspire 11 running shoes for women come in six different color variations and is created of imported synthetic material. These do run small so is recommended that you order a half a size bigger than you normally wear with other brands. Users reported that they seem to fit wider than other brands, so they are a great pair of shoes for wide feet too. The heel measures at approx 1.75" inches while the platform measures at 0.75" inches. Composed of a mesh material on the outer layer offering the required breath-ability for your feet, the foot is also cleverly guided by a supportive fan that is located in the midsole. This Mizuno is recommended for those who are going to be moving around a lot while on their feet.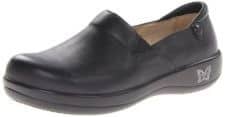 Definitely one of the most colorful standing shoes on the list, not only does the Alegria Keli come in 48 different color combinations it also offers various patterns to choose from. They are made from imported leather offering a slip resistant rubber sole to prevent any slipping and sliding in the workplace. The heel measures at 1.5 inches high while the platform measures at 0.75 inches, so they are not too tall. The insert is a latex and memory foam material offering an extremely comfortable fit. There is also a leather lining for added support. The toe box is one of the largest in the field so great shoes for people with bunions. The Keli also offers a padded instep and a back collar which works to prevent any foot chafing which could lead to a great deal of pain. With a shipping weight of only 2 pounds this is an extremely lightweight shoe that still has plenty more to offer the wearer.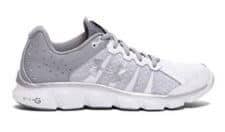 Under Armour has sure come a long way in recent years. One area in particular that they have great improved upon is their women's running shoes. The Micro G is made of imported synthetic material and offers a rubber sole that comes offered in six color variations. The upper portion is created with a light supportive foam that is hidden underneath a layer of breathable mesh material. The mid shoe is a durable leather overlay that locks for stability. Rubber traction covers are placed in strategic high impact locations. Although users did report arch support, some users stated it was not made for those with high arches. The overall lightweight material offers one the lightest running shoes that will ever grace your feet; each shoe only weighs a total of 9.0 ounces which is almost as light as some of the best on the market, meaning those long tiresome shifts on your feet will be less of a drag.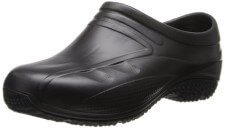 These closed back clogs come designed with female nurses in mind, and offers 12 different color variations so that you can find just the right color to match your personality. It comes with an easy to clean synthetic sole and a heel which is 1.25 inches, while the platform measures 0.5 inches. Not only is it designed to be slipped on with ease, the Cherokee AnyWears has a removable and replaceable insole insert too. The sole is composed of slip resistant tread that is sure to grip even in the wettest of conditions. Socks can and should be worn with these clogs for hygiene and comfort purposes. Overall, whichever your department or profession, they are a great choice for women who require comfortable work shoes for standing all day.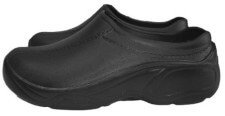 Cheap nursing shoes at their best, these clogs will get the job done. Composed of synthetic material and comes in two colors, black or white. They offer easy slip-on technology and again please wear socks for the obvious hygienic reasons. Like with most medical shoes, these are also extremely easy to clean and offer waterproof protection, which is a must in the medical profession. Users have reported that these do run small so when thinking about purchasing please keep that in mind. As with most nursing shoes the Natural Uniforms offer a more than adequate arch support to help prevent the likes of collapsed arches or other foot pain from developing. Not a bad choice for the money.
Top 10 Men's Shoes For Standing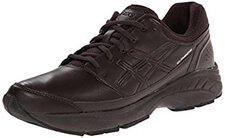 Men are generally heavier than women and therefore need shoes that offer more support on their feet. The ASICS GEL Foundation Workplace walking shoe is the perfect choice for men and is possibly one of the best shoes for standing on concrete all day. It is made of natural and synthetic leather which makes it both aesthetically appealing and durable at the same time. It makes use of two layers of memory foam specific to cover the user's heel and absorb the impact of walking or standing for hours, plus there is a use of Duramax dual intensity midsole technology which allows stability. It also utilizes a specific EVA foam on its midsole that reduces breakdown and increases bounce back characteristics.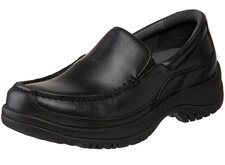 If you are involved in a work that needs you to dress well and involves standing all day, the Dansko Wayne men's slip on is the best option you can go for. This trendy looking shoe makes use of full grain leather upper for its superb look which is great for different environments whether it be an upmarket retail outlet or local grocery store. It also utilizes removable EVA insole and a polyurethane midsole for added support when you are standing or walking. A surprisingly functional shoe that prevents slips thanks to its Nitrol rubber sole that allows you to use the footwear on different surfaces makes it a diverse and exceptional choice from the household name brand.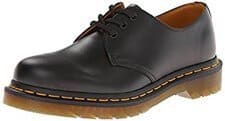 The timeless Dr. Martens 1461 Gibson oxford shoe is the perfect footwear for men who plan to look dapper while standing for long periods of time. Made of leather material, it looks classy regardless if you are wearing suit and tie or long sleeves for the office. It offers a padded footbed that cushions your every step and supports your weight when you are required to stand. It also has an accent yellow contrast stitch that makes the iconic shoe stand out. Doc Martens are well known and well established in the footwear industry, and this evident because these comfortable shoes are known to prevent blisters and are much more subtle on the feet than they look. There is no doubt, Dr. Martens 1461 is a great investment for those people who are required to walk or stand for hours, whilst looking great at the same time.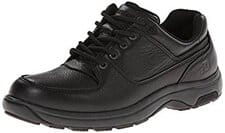 If you are looking for the best shoes for standing on concrete all day and don't mind a smart casual look from these lace up sneakers, the Dunham Windsor Waterproof oxfords are a good option that you can go for. It makes use of waterproof leather which gives you the chance to walk around on different surfaces and weather without hassle of wet feet. There is also a fiberglass stability shank that has been embedded into the midsole for added support on the arch and helps give a smoother gait to the user making walking or standing slightly more pleasurable when required for long periods.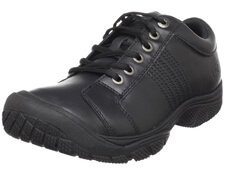 These dark deep rich glossy black work shoes are composed of imported leather that are designed for comfort as well as anything which involves long periods of standing. The rubber sole is slip resistant shoes that meet and exceed the American Society for Testing and Materials F1667-96 Mark II non slip testing standards. The EVA midsole is made of compression molded materials that offer an unparalleled amount of comfort. The footbed is made of a KEEN memory foam that conforms to the shape of your foot. These Oxfords are also designed to be water resistant and stain resistant to ensure a longer lifespan which translates to you saving money. The makers of these shoes intended that these be one the most comfortable work shoes to grace your feet.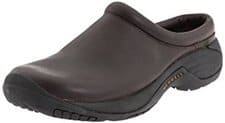 The Merrell Encore Gust slip-ons are the perfect standing shoes for men who prioritize working in comfort above everything else. Making use of an aircushion heel which helps you on every step, it also features an ortholite footbed that promotes comfort on your feet when standing for long periods of time. Aside from being great for the workplace, the Encore Gust is also perfect for casual wear. It has a smooth leather upper combined with an ergonomic design that gives men the opportunity to look sharp and relaxed whether being on your feet all day walking for hours or just standing in place.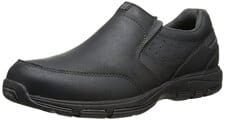 The Rockport Make Your Path SN slip-on loafers may look rugged and perhaps are a little too casual for some job roles, but it definitely offers comfortable service regardless if you are running errands during the weekdays or standing for hours at work. These Rockports are the perfect classic that offers hydro-shield construction which allows you to work freely in different kinds of weather, so even if your job takes you outdoors you'll be fine. The rubber outsole has durable grip that gives you the confidence to tread in a variety of conditions and surfaces. Lastly, it boasts an EVA midsole cushion that offers padding whether standing on concrete or walking, which is also thanks to the Strobel construction that makes the slip-ons aid your natural gait.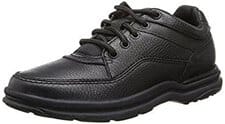 There's no doubt that the Rockport World Tour Classic being especially designed for the user's stability are one of the best shoes for standing all day. It makes use of biomechanically designed outsoles that cater to your natural gait, allowing maximum movement while it fits like a glove for the most comfortable experience. Like most of their shoes, these are lace-up and available in different sizes including for those users with wide feet and even those that need extra wide shoes. It also has a padded tongue and collar that prevents blisters for those who plan on using for long walks. Amazingly these are available in a plethora of shades and come in either leather or nubuck which are both very easy to clean.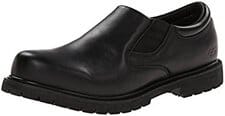 The Sketchers For Work slip-on is a smart looking pair of steel toe safety shoes that are about as feature packed as you can get when it comes to choosing a balance between comfort and safety combined. For aesthetics it has the smoothest supple looking leather upper and is designed to easily fit into a blue collar workplace too. In terms of protection whilst on the job, it meets Electrical Hazard ASTM requirements, has a reinforced steel toe cap, and is slip resistant too beyond its standards needs. For comfort, the removable memory foam insoles and shock absorbing midsole combine with their Relaxed Fit® design to offer one of the best shoes for work that any man could ever need.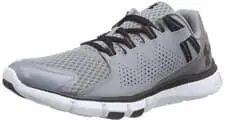 The sexy and hard to miss Micro G Limitless are made of imported mesh material that come in your choice of seventeen different colors. You are sure to be noticed in the Fuel Green / White / Black style whether at work, using as hip hop shoes, or working out at the gym. The mesh is designed to offer maximum breathability to make sure your feet never get too warm which means the ventilation on these shoes is unlike anything you have ever worn before. The structured seamless upper provides an amazing amount of support without making them too bulky and unwearable. The 4D padded footbed will form to each individual's foot making sure that every wearer gets a unique experience. These shoes offer an excellent balance of support and comfort meaning when it comes to work or leisure these are a great choice of running shoes for standing on your feet all day.