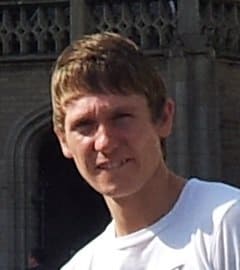 We've all seen the out of the ordinary socks that have cool and fun designs… but primarily on women. Well no longer! Men too can have the joys of fun, unique socks that have wicked designs that will make all your friends jealous! Fortunately, you can find a fun pair and even a pack of patterned socks at Amazon.com, here are some of their top sellers.
1.    Boldfoot Socks  Premium Quality Pack Colorful Fun Patterned Mens Dress Socks
Boldfoot Socks allow men to break from the norm of boring black or brown of regular men's dress-wear.This quality pack of fun men's socks comes in a variety of colors and patterns that offer men quirky patterns that are not too over the top.You will enjoy the 5-pair crew length multipacks that includes fun, colorful, cool, and funky patterns that will make you rise above the crowd. The pack is 100% made in America with 75% supima cotton, 23% nylon, and 2% spandex.$34, check it out HERE.

2.    Oooh Yeah Men's Luxury Combed Cotton Crew Socks
Oooh Yeah offers men a pair of socks that are bolder and brighter than your average, everyday socks. They offer 39 unique, fun patterns that can't be found on any other sock like Bob Ross, electric guitars, and Mr. Bean. Oooh Yeah guarantees that you will enjoy the comfort of their socks that are made with 65% luxury combined cotton, 32% nylon, and 3% spandex. $12, check it out HERE.

3.    StanceMen's The Fourth Crew Sock
Stance provide men the chance to wear socks that have the most patriotic and fun pattern possible, the American flag.The American flag pattern comes in a Red and Red Combo pattern that allows men to pick their favorite look. Besides the American flag pattern, there is also a screaming hand pattern available. They promise the best anatomical fit with a deep heal pocket and a low-gore seam. This sock is made with 68% cotton, 16% spandex, 11% elastane, and 5% nylon.$8-$12, check it out HERE.

4.    Foot Traffic  Special Interest Men's Sock
Foot Traffic's Special Interest Men's Sock allow men to display their special interest through the fun patterns available. There are patterns such as dollar signs, tools, barber shop, hospital, and even a pair that says "Trust me, I'm a lawyer". The fun patterns allow men to exclaim their interests in the best way possible, through their socks. Foot Traffic guarantees that you will feel comfortable all day long with their blend of 65% cotton, 15% nylon, 15% polyester, and 5% spandex. $9, check it out HERE.

5.    Yumily Mens Cashmere Feel Hero-Theme Dress Socks
Yumily let men feel like a hero with their specialty hero-theme dress socks 5 pack, where each pair of socks has a fun, hero pattern. The pack has the best of both Marvel and DC with a pair of socks for Superman, Batman, Captain America, Punisher, and Deadpool. Men can now represent their favorite superhero while also being comfortable with Yumily's 68% acrylic, 30% polyester, and 2% spandex sock blend. $25, check it out HERE.

6.    Sock It to Me Crew Socks
Sock it to Me allows men to add some a bit of mystic power to their step with their magical socks. One of the more popular designs is the "Unicorn vs. Narwhal" design which shows exactly what it is named. The grey pair of socks depict a heated battle between a unicorn and a narwhal with their horns clashing against each other. This pair offers men to comfortably show off the heated battle with its blend of 75% cotton, 20%polyester, 5% spandex. $12, check it out HERE.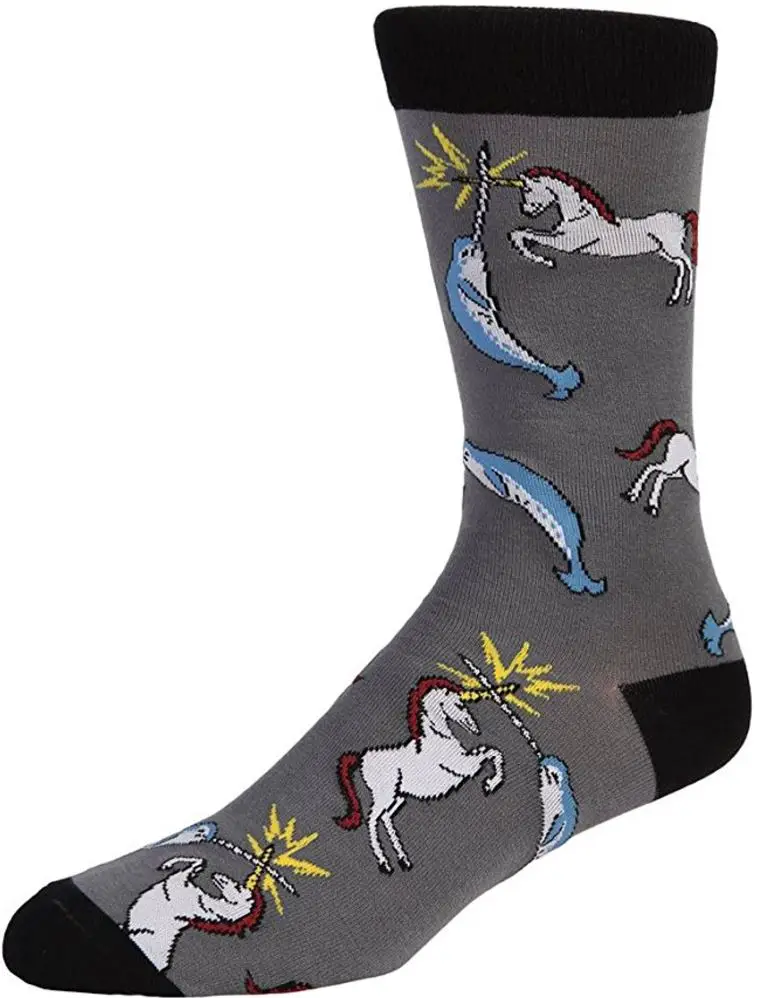 7. Socksmith Men's Pink Flamingo Trouser Socks, Navy
Socksmith has a variety of fun patterns that men will enjoy wearing like Big Foot, old fashion airplanes, or sushi to just name a few. The Pink Flamingo is one of their more popular designs which depicts various flamingos in a navy-blue background. It's a fun pattern that isn't overly pink and isn't too colorful. Your feet are going to feel like they're flying with Socksmith's comfort blend of cotton, nylon and spandex. $10, check it out HERE.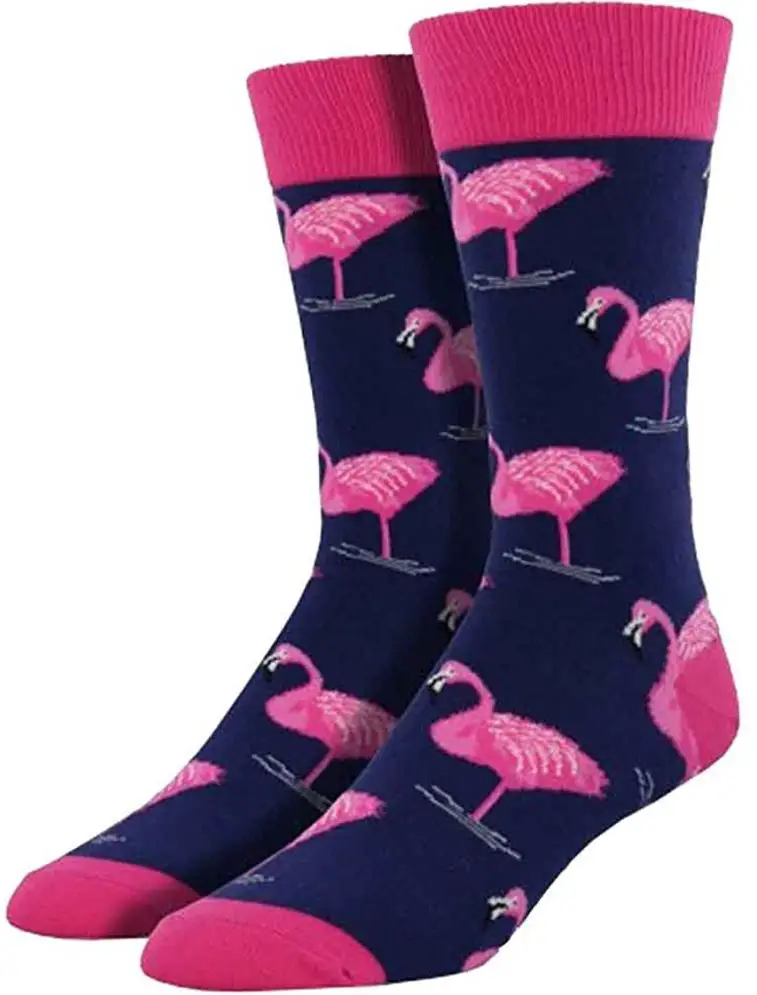 8. MadSportsStuff USA Pride Athletic Crew Socks
MadSportsStuff promote mostly sport centric patterns from everything from soccer to lacrosse. One of their hottest socks right now are their Pride Athletic limited edition crew socks. They are patriotically patterned with the American flag featuring "USA" on one of the socks and "2017" on the other sock. These socks are meant to celebrate American athletic teams while also being made to handle athletic activities. The socks are moisture wicking, has blister control, arch and ankle compression, and more! You're going to want to run a mile with their 77% polypropylene, 17% nylon, 3% elastic, and 3%lycra spandex blend that is perfect for performance. $15, check it out HERE.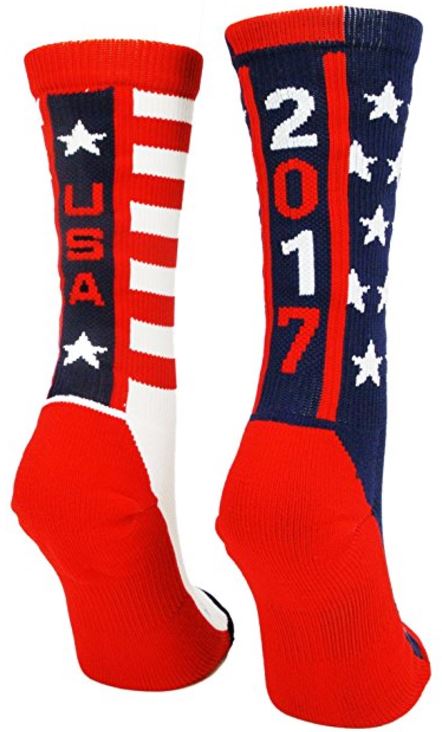 9. Huso Unisex Striped Hiking Socks
If you're looking for patterns that are simple but still unique and are made for physical activities, then Huso Unisex Striped Print Athletic Quarter/ Ankle Hiking Socks are for you! The abstract designs of the socks are bright and colorful without being feminine. Not to mention that the socks are made to worn during hiking or running, Their COOLMAX® fabric is designed to keep your feet dry during the most active conditions. Huso's socks are also designed to ensure comfort at even the toughest conditions with their engineered blend of 46% COOLMAX®, 15%spandex and, 18% polyester. $11, check it out HERE.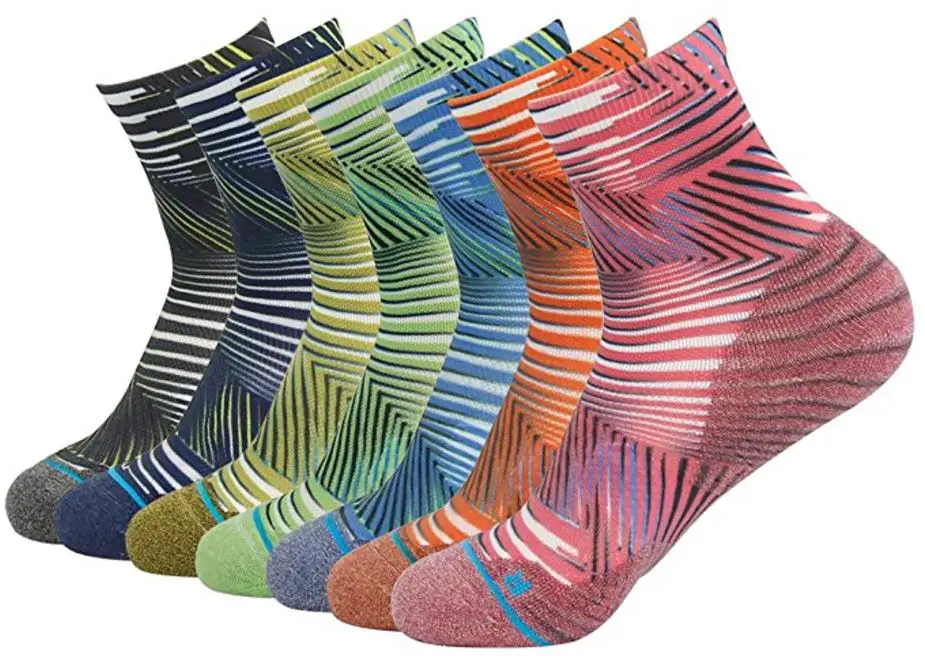 10. K. Bell Socks Star and Stripes Crew Sock
K. Bell offers men fun pattern socks that are simple but still playful such as their shark socks that look like the sock are eating your leg or skull and cross bone socks that say "Game Over". Currently, the most popular design is of the famous moon landing, where the cartoon astronaut is planting the American flag on the moon. This is a part of their patriotic series where they have varied American patterns on their socks like the American flag or the Statue of Liberty. Men can comfortably display their American Spirit with K. Bell's comfortable blend of cotton and polyester. $5, check it out HERE.