Half Up Half Down Hairstyle The Half Ponytail Inspired By Ariana Grande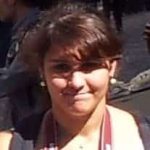 Whether you like Ariana Grande's music or not, you've surely noticed her unbelievable hair. It's like magic. It's huge. It's got volume to spare. It has personality.
It's absolutely amazing. I personally love her half up half down look that she loves to rock. I knew that I had to learn how to complete the same look on my own hair.
Do you also want to learn how to do your own half ponytail at home? With some help from Imogen with Foxy Locks Girls, we'll be breaking down the technique step by step so that you can become a pro at the Ariana Grande hair look that's sweeping the nation.
Also Checkout: How To Do Ghana Braids
Ready to master the half up ponytail? Let's begin!
How to Do a Big Half Ponytail
To pull off this look, you'll need a few things.
Paddle Brush: Your favorite will do. You'll want to remove tangles and smooth your hair throughout the process.
Backcombing Comb: You'll be backcombing quite a bit to add volume so make sure you have a comb that can keep up.
Hairspray: Imogen recommends using one with argan oil. You'll really like the added shine and your hair will still feel natural.
Nume Curling Wand: This curling wand creates awesome loose waves in a flash. You'll be doing a lot of curling and you'll want to be using a great tool.
Hair Extensions: Chances are, you won't have the amount of hair needed to duplicate this look. If this is the case, you'll need to create your half ponytail with extensions.
Hair Clips/Elastics: You'll need clips throughout the styling process and an elastic to create a half up ponytail.
1. Begin with freshly washed and dry hair. Brush through your hair to get rid of any tangles and make it as soft as possible before beginning to recreate the half up half down hairstyle.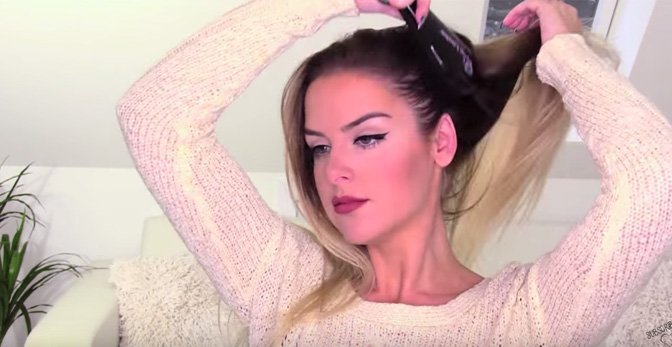 2. Section the top half of your hair and secure it on top of your head. No need to worry about what it looks like. This is just to keep it out of the way. Use a small clip to make sure it doesn't slow you down.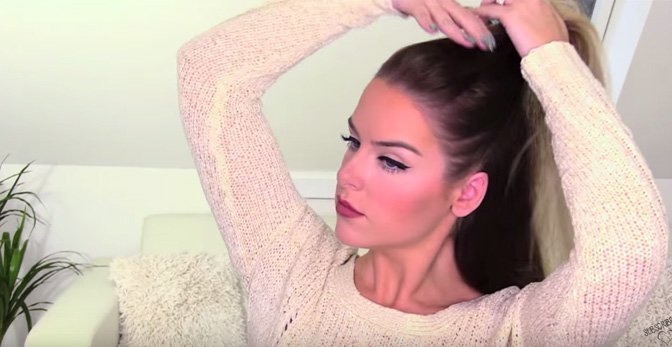 3. To achieve this look, you'll need the help of hair extensions. The amount of hair that you'll need will vary based on the length and volume of your current hair but Imogen uses 20 inches.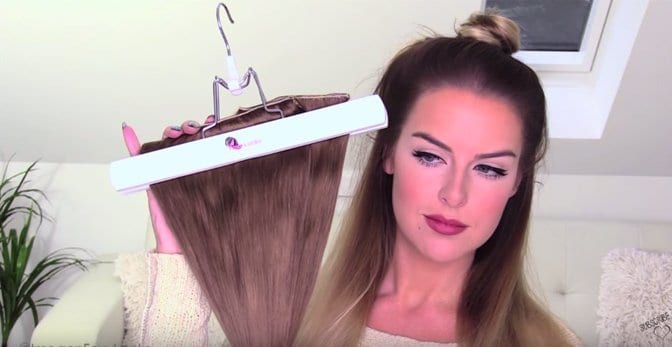 4. Clip in the hair extensions, making sure to position them in the lower half of your hair. Make sure that they are completely concealed but you don't have to shoot for perfection with this hairstyle. Brush through your hair again and spritz with a bit of hairspray.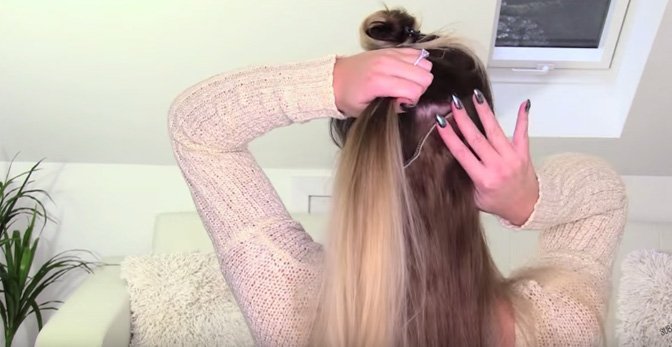 5. Using your Nume Curling Wand, begin curling small sections of the lower section of your hair. With the hair extensions, this could take quite some time. Just don't rush the process. Stick with small sections and work from one side of your head to the other until all of your hair is curled. Remember to spray hairspray throughout the process for best results.
6. Once all of your hair is curled, begin to backcomb for incredible volume. Working in sections, spray some hairspray on the roots and backcomb until the desired amount of volume is achieved.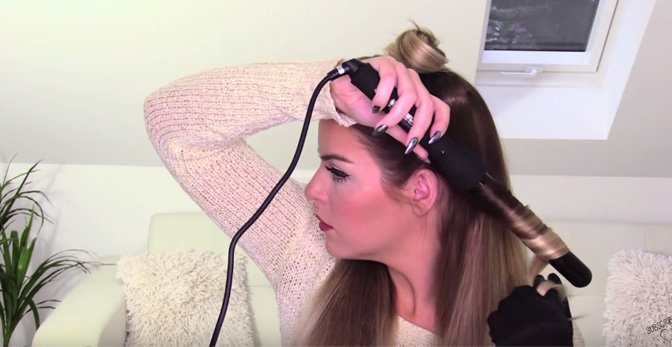 7. Next, take your top section of hair down. Let it fall over your face and clip your curled hair out of the way. Apply a second hair extension clip around the base of your top ponytail. Make sure that it's secure. Gather all of your top section of hair into a high ponytail again, taking a moment to brush any bumps or kinks out of the front. You want the hair to be smooth and sleek from the forehead back.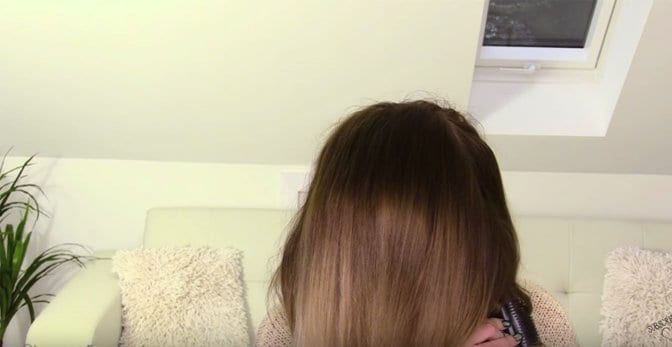 8. You can unclip the lower section of hair now that the top is secured. To hide the elastic, take a small section of top hair and wrap it around. Secure it with a clip. This step is optional but it definitely creates a more sophisticated look.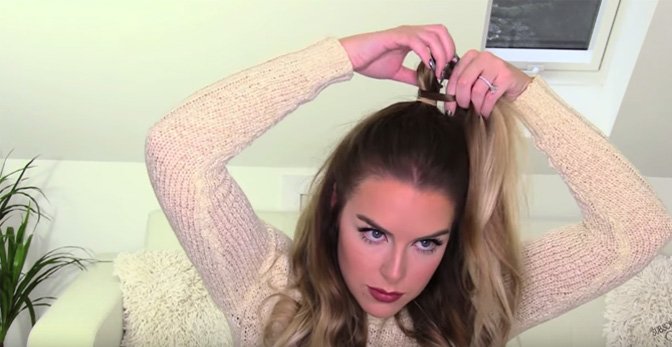 9. Take your Nume Curling Wand again and curl the top hair just like you did with the bottom section, working in small sections and spraying with hairspray as you go. Finish the top section by backcombing just around the elastic. Remember that there's no such thing as too much volume with this hairstyle, so really add the volume here.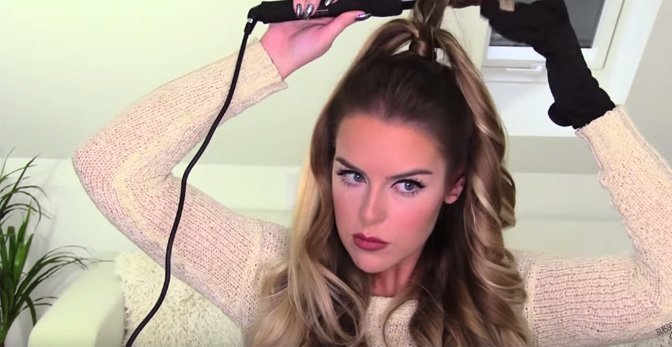 10. If you're looking to really duplicate the Ariana Grande hairstyle, pull down any baby hairs that you have around your forehead. Imogen points out a bonus tip of doing this. It helps to make your forehead look a bit smaller!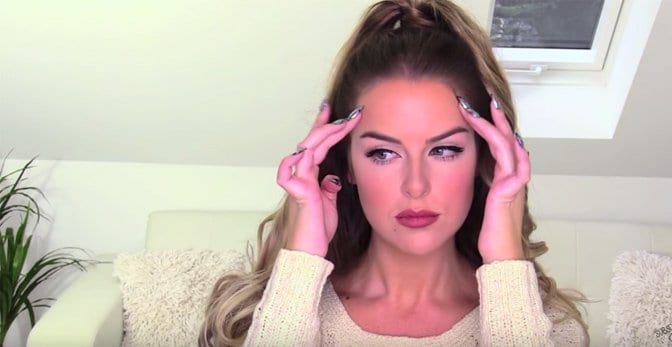 11. Don't give up yet. You're almost there. Take your hair brush and brush your curls a bit. You don't want to remove them but just soften them up a little bit. Take a look in the mirror and backcomb any areas that need a little more volume with your regular hair brush, focusing on the top section.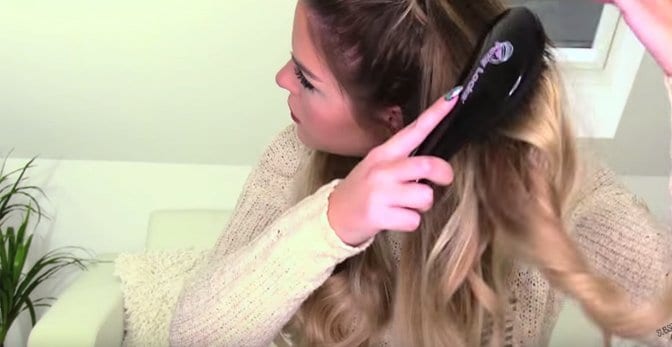 12. Finish with a final burst of hairspray, positioning your hair with your fingertips just the way you want.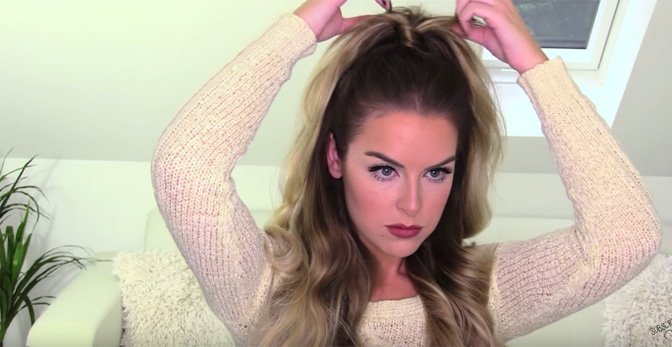 Once you've gathered your items, you're ready to start creating hairstyle magic. Here are your step by step instructions for achieving an Ariana Grande hairstyle.
There you have it! You're now ready to debut your Ariana Grande hair. You'll love how versatile this half ponytail style is. It works great for special occasions but is also casual enough for a day of errands.
No matter what, you'll love the confidence that a look like this can give you. With so much volume and shine, you'll really feel like a star. Once you know how to do a big half up ponytail, you'll always have a great style to fall back on.
If you've been looking for a new go-to hairstyle, half up half down hairstyles are always popular. It's an easy look for anyone to master and you're sure to get plenty of compliments on your new look. Try out the half ponytail today!
Below is the video: