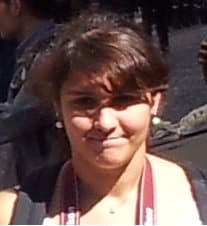 When I'm walking along with a bouncing head of curls I feel super confident.
Not naturally blessed with curls? Then cheat the effect with a hair curling wand.
These days we are spoilt for choice with hair products and can count ourselves lucky that technology has come such a long way.
It's brilliant there are so many options available but where do we start?
Find the best curling wand that will give you the curls you have been dreaming of by reading my curling wand reviews below.
You really can make everyday a great hair day by adding some sexy waves and bounce. Celebs do it and there's no reason us girls cant too.
Whether its waves, ringlets or spirals you're after, a hair curling wand is what you need.
Quick Comparison
| Best Curling Wand | Barrel Width | Best For | Price | Editor Rating |
| --- | --- | --- | --- | --- |
| | 0.5-1″ | Thick Hair | $ | |
| | 0.5-1″ | Big Curls | $$ | |
| | 0.5-1″ | Affordable | $ | |
| | 0.5-1″ | Thick Hair | $ | |
| | Multi  | ALL Hair | $$$ | |
| | N/A | Long Hair | $$ | |
| | N/A | Fine Hair | $$$ | |
| | 1.5″ | Big Curls | $$ | |
Curling Wand Vs Curling Iron
Ever find that curling irons can leave kinks or lines? Also because of the clamps on curling irons you are left with the last inch of hair still straight. Not such a good look! That's why I prefer to use a hair curling wand.
Curling Irons have a clip to hold the hair in place whilst setting the curl whereas with a hair curling wand you need to hold the ends of your hair with your fingers. This may seem daunting at first but trust me, the end results are worth the effort.
Curling wands also tend to work much faster than curling irons. Of course everyone is different but I would say it takes me 45 minutes to curl my whole head with curling irons and with a wand curler it only takes me 20 minutes.
So for me the haircurler wand is a clear winner.
What to look for in a curling iron
You will need to know what size is right for the curls you want. Does it give enough heat to get the desired curl and make it last? Is it easy enough to use? What material is it made from?
When it comes to choosing the best curling wand then size definitely does matter! You want a thin barrel for tight curls and a thick barrel for big loose curls.
Most curling wands now allow you to control the heat with a switch so you can make it hotter or cooler depending on how much heat you need.
Everything takes practise and if you follow my steps below on how to use a curling wand then you will be a pro in no time.
I tend to avoid materials such as metal as that can be damaging to your hair. The good quality models these days tend to be ceramic or tourmaline which are much kinder to your hair.
Once you have master the art of the luscious big curls, then why not check out our electric hair straightening brush reviews.
Best Curling Wand For All Hair Types
Irresistible Me Sapphire
With the Irresistible me 8 in 1 hair curling wand you can create so many different looks it's mind-blowing.
I am obsessed with this wand curler and have received so many compliments on my hair when I've used this.
The Irresistible me leaves you with beautiful curls that set quick and last all day and night, happy days.
Use the large barrel for more elegant curls and the thinner barrel for a more casual beach wave look.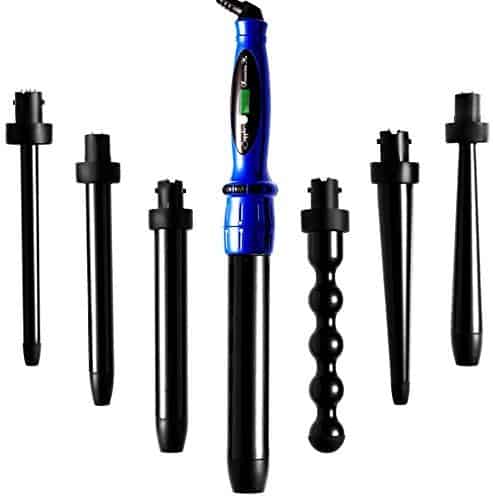 Buy for $$$ on Amazon
What I love to do is use the large barrel for the underneath section of hair then work up in layers finishing with the thinner curling wand on top. This gives such a professional look with lovely bouncing curls that sit nicely on top of each other.
It's ready to use in 20 seconds and the pieces go together and come apart easily.
This is honestly the best curling wand I have ever used. It's so versatile and even has an LED screen where you can adjust the temperature to your liking. The swivel cord is a nice touch making it easy to curl your hair like a professional.
Best Curling Wand For Fine Hair
GHD Creative Curl Wand
A GHD curve wand has a patented tri-zone, ceramic technology that heats up to 365 F which is a fabulous curling temperature.
GHD is huge in Europe, especially in the UK and is a favourite with top celebrities.
It's not the cheapest of wands but GHD are built to last and give fantastic results every time.
I definitely think it is a worthwhile investment if you are going to be using the wand regularly.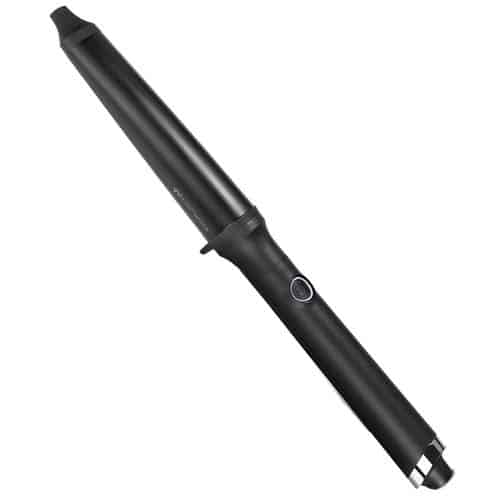 Buy for $$$ on Amazon
The built it safety stand makes it simple for putting it down between curling.
I think this wand is excellent for all hair types including fine hair. It's a good all rounder.
Best Curling Wand For Long Hair
NuMe Pearl 100% Ceramic Tourmaline Infused Curling Wand
As a fan of the Nume curling iron I couldn't wait to try their new wand.
I have to say I'm impressed. I can get so much volume with the Nume curling wand.
This is my favourite curling wand for creating sexy beach waves.
The size of the curls depends on how much hair you wrap around the wand.
If you want beach waves then go for bigger sections and you don't need to hold them so long so it's great for a quick style change. I can do my whole head in 15 minutes!
Because of the unique shape of the Nume curling wand the curls are so natural looking.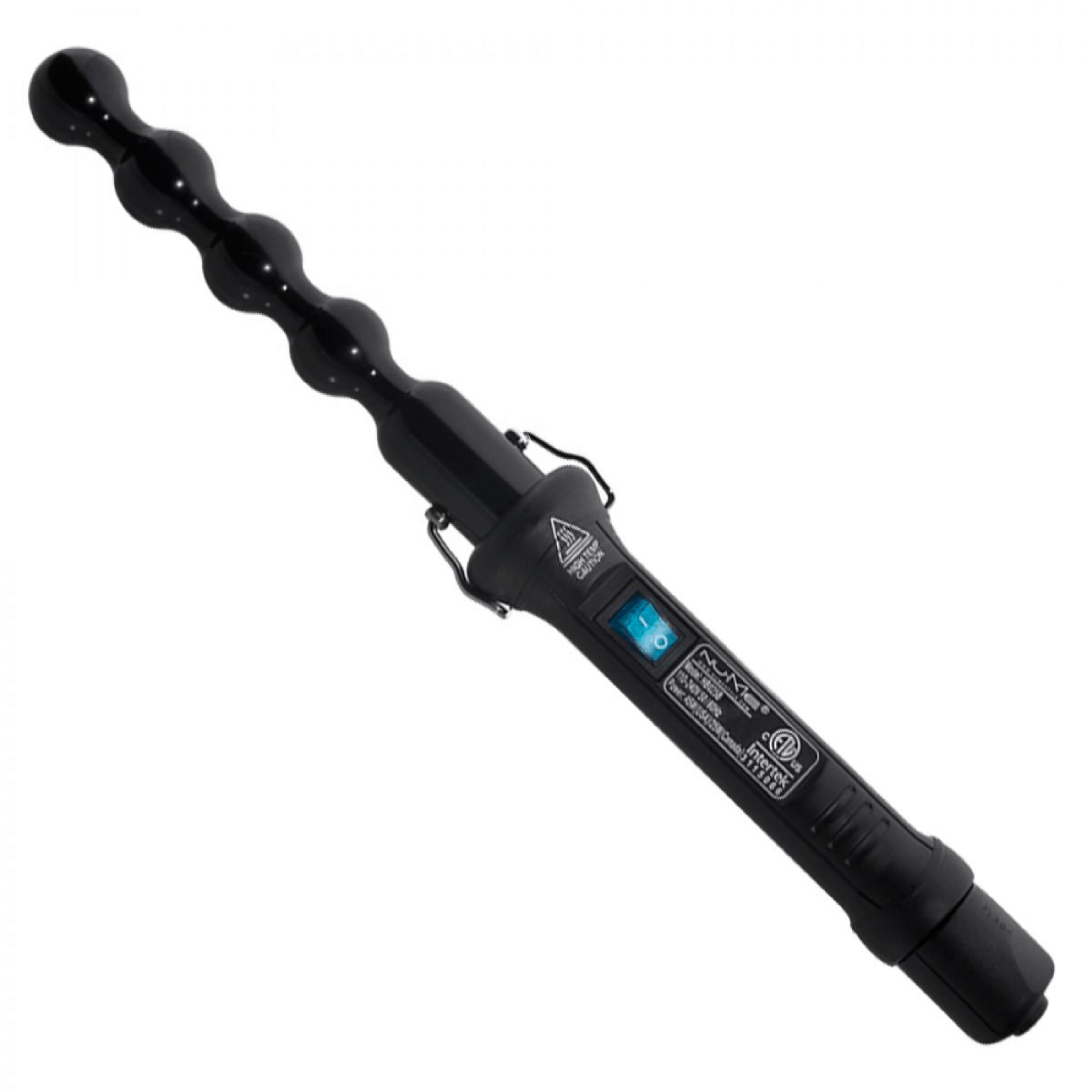 Buy for $$ on Amazon
I didn't even need to use hairspray and the curls still held until the following day.
Another thing I love about the Nume curling wand is how light it is so my arms don't get tired.
Best Curling Wand for Big Curls
Kadori Professional Tourmaline Ceramic Curling Iron
If Hollywood glamour is what your after then the Kadori wand could be the answer for you.
It's super easy to use for creating gorgeous big curls that last for hours.
If you really don't think you can manage without a clamp then this is probably the best option for you as it has the best of both worlds. This is a combination of a wand curler and curling iron.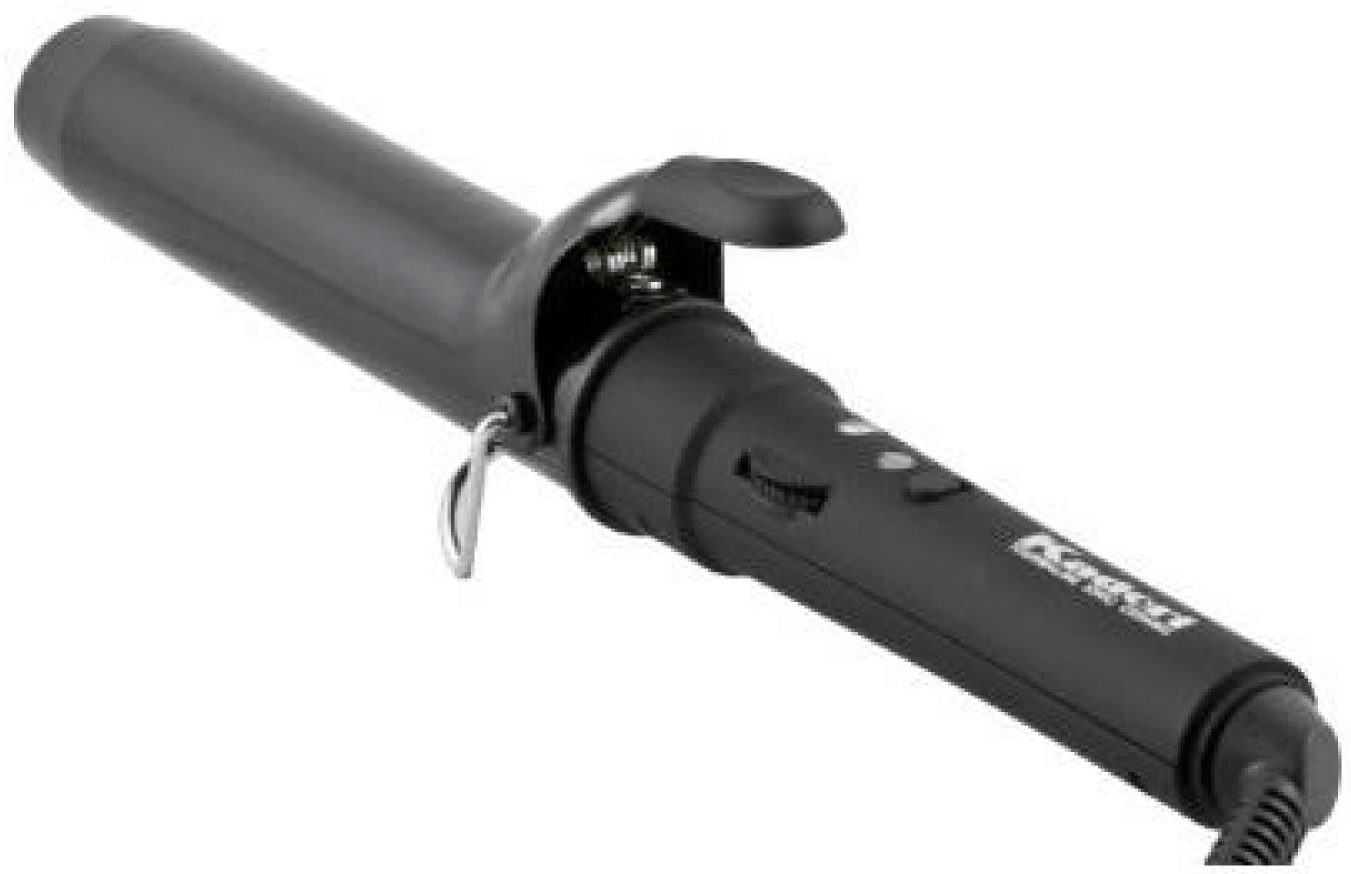 Buy for $$ on Amazon
The Kadori exceeded my expectations, it has a modern sleek appearance and a good handle with a nice grip.
Don't you hate it when you've had a styler for a while and then the cord keeps twisting up so you are constantly having to unravel it? I hate when that happens. Well you don't have that problem with the Kadori.
The cord swivels as you turn the wand which saves it from getting tangled up, such a well thought out and handy concept that you don't tend to get with most other hair stylers.
Because the wand is so large, you can even glide it down your hair to smooth your hair straight then curl it under nicely at the bottom. It works great at getting frizz out of hair. See how we've gone from using my best hair straightener to curl our hair to using curlers to straighten? Crazy… but it works, so why not!
Perfectwo Studio Salon Collection Digital Ceramic Curling Wand
The sleek and stylish Perfectwo haircurler wand does take some getting used to but don't let that put you off as this is still a great wand curler.
It's easy to control how loose or tight you want the curls to be.
There is a little window showing you the exact temperature so it's also easy to control the heat. The Pefectwo produces such beautiful ringlets, I get so many compliments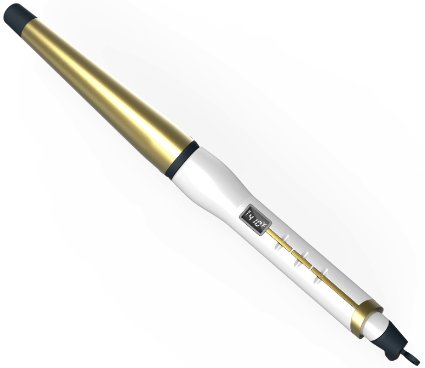 Buy for $$ on Amazon
The only thing is that the curls don't seem to last as long as with some of the other wands I have used. You will need to use hairspray to get the curls to last longer.
Best Curling Wand for Thick Hair
Remington CI95AC2 TStudio Salon Collection
The Remington curling wand allows you to easily create beautiful spiral curls that last the whole day or for some lucky people even up to 4 days!
With a 4 year warranty, you can be confident that it's well made and going to last.
The Remington curling wand features a cool tip and is safe and easy to use with automatic shut off. The price is amazing for what it can do.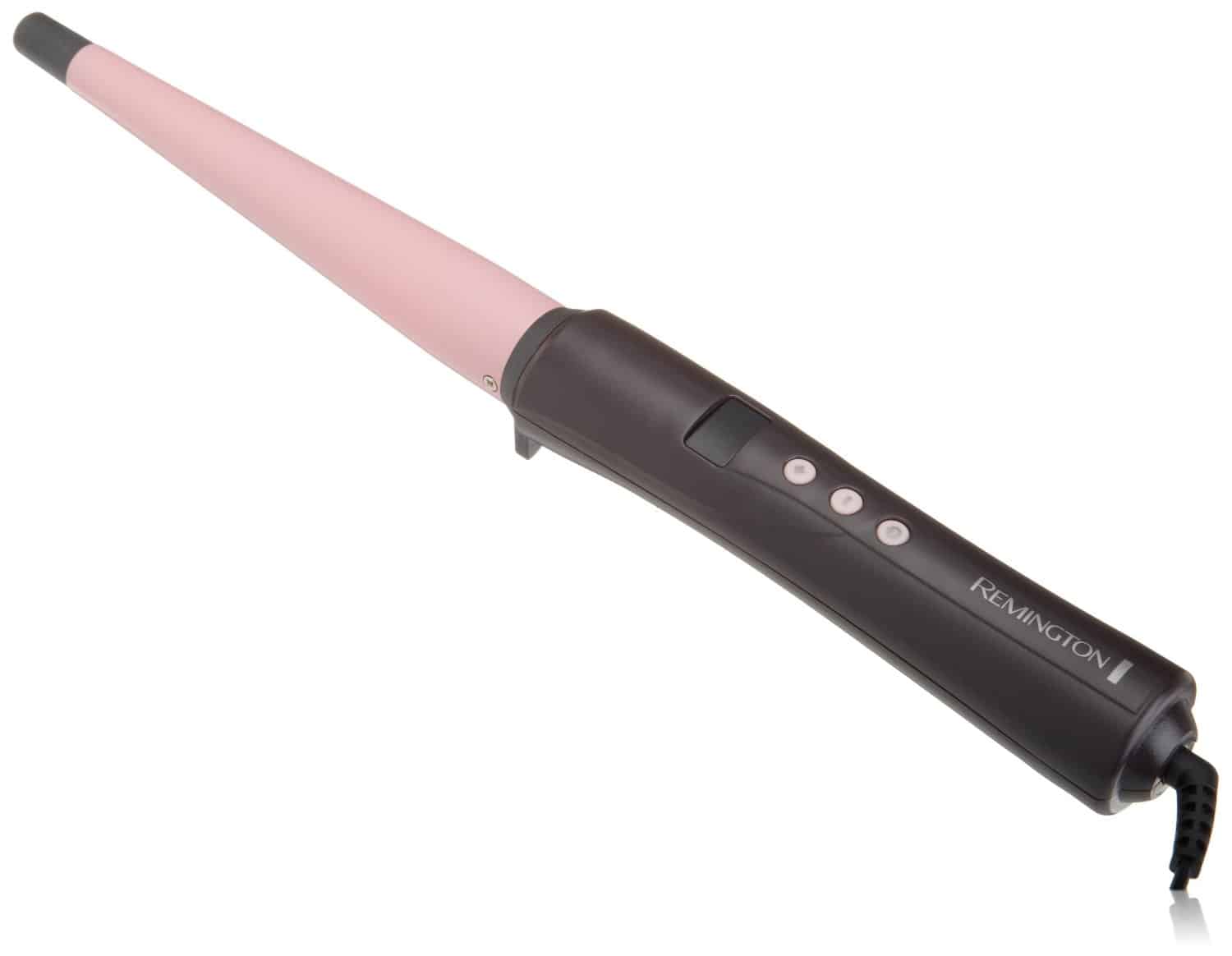 Buy for $ on Amazon
My friend has very straight hair which she found impossible to curl until she tried this wand and now she can't get enough.
The only small negative is that the glove it comes with is too thin and gets in the way, so if you like to use a glove I would say you are best off buying one separately.
Bed Head BH311 Blue Raspberry Conical Styler
So the bed head conical styler is a differently shaped wand which I found made it easier to curl my hair around the barrel and keep it there without it sliding off.
It heats up very fast and goes up to a high temperature but unfortunately, there is no option of controlling the heat or turning it down.
Also the handle gets hot which was a bit annoying.
I found that it didn't really work well for using on big sections of hair.
However, it really does create lovely, gorgeous spiraled curls.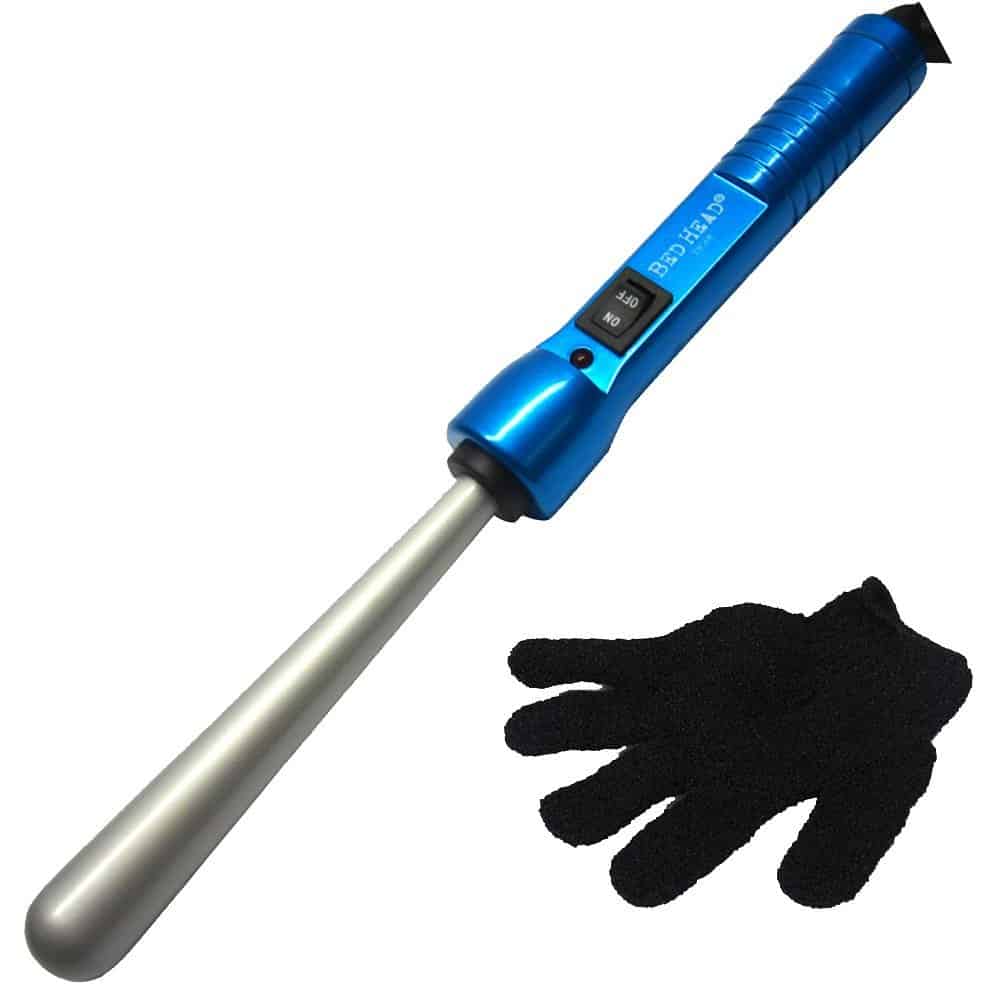 Buy for $ on Amazon
If your quite clumsy it might not be the best option for you.
Best Affordable Curling Wand
Conair Tourmaline Infiniti Pro Ceramic CurlingWand
I've always had good experiences with Conair products and I'm happy to say I was really pleased with the Conair curling wand.
I wasn't sure what to expect given the low price but this is such a great product.
For small curls you can use the tip and for big curls use the end.
What I like to do is make it so the curl is bigger at the top then gradually goes down to a tighter curl on the ends.
This way you get the most volume at the roots and the long lasting curl on the ends.
I found the curls did drop out a bit during the day but this actually didn't bother me as the curls seemed to look better then.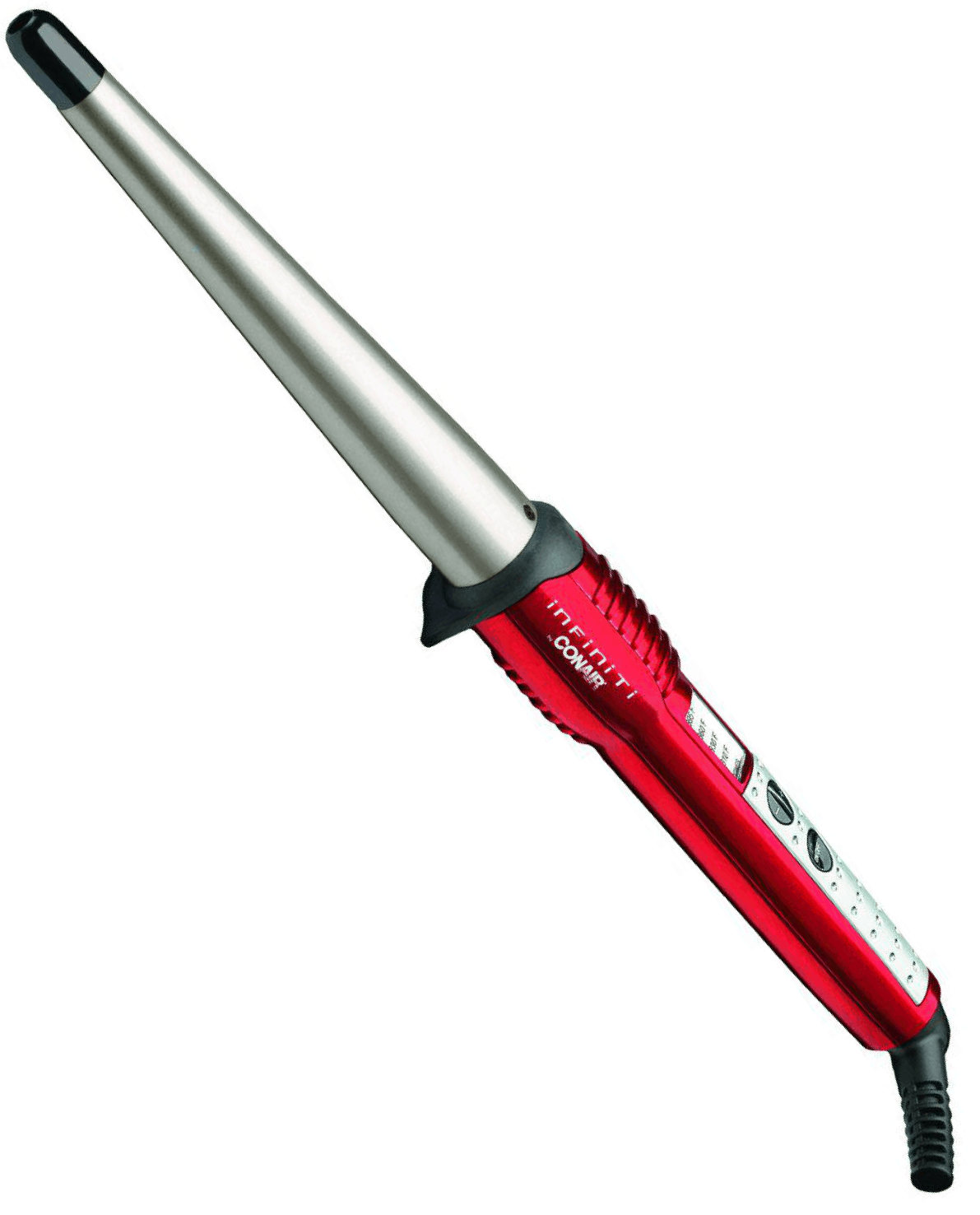 Buy for $ on Amazon
Curling Wand Sizes
If you've been searching for a new curling iron, the insane number of available sizes might have you wondering which one is best for you.
Different sizes can do different things for your hair so take a look at our quick and easy to follow guide to figure out which is best for your style.
2 Curling iron (inch)
A 2-inch curling iron won't give you the tightest of curls, Instead, it's more designed to give your hair nice rounded curves at the ends. It's the best curling iron for beachy waves and is a great tool for faking a blowout look.
1 ½ Curling iron (inch)
Love voluminous curls? Then this is the curling iron size for you. A 1 ½ inch barrel can give you big, bouncy curls that are sure to turn heads. Just make sure to set your hair so that the curls don't fall out quickly.
1 ¼ Curling iron (inch)
A 1 ¼ inch barrel is one of the most popular with consumers. It provides just the right amount of curl and bounce without being so extreme that you need a ton of product to get your style to last.
1 Curling iron (inch)
A 1 inch curling iron is great for hair that's medium or short. It creates soft waves that can be brushed out with a soft brush for a stylish and sweet looking curl. You'll be able to copy plenty of red carpet styles with this iron.
¾ Curling iron (inch)
Looking for a springy curl? The ¾ inch barrel is just what you need. It's often used by hair stylists to create romantic, vintage looks by curling the hair and then brushing it once cooled. Because the curls are tight to begin with, you'll still end up with soft waves that last all day.
⅝ Curling iron (inch)
For those with naturally curly hair, a ⅝ inch barrel is perfect for making sure that all your curls stay in place and remain frizz-free. You can also use it to even out uneven curls.
⅜ Curling iron (inch)
If you have awesome, tight curls, you'll need a curling iron with a ⅜ inch barrel. It's great for touching up a few unruly sections of hair or for loosing up kinky curls. If you have the patience, straight haired girls can completely transform their style with this curling iron.
How to Use a Hair Curling Wand
Remember curling wands can only be used on dry hair.

Thoroughly brush your hair before getting started as you don't want any knots messing up your gorgeous look.

You want to work on small sections of hair at a time. If you try to rush by using bigger sections then you won't be as happy with the result.

Wrap a section of hair facing down around the barrel, starting at the base.
Do not press the hair to the wand with your fingers, even if wearing a glove. Hold for around 5 seconds to allow the curl to set.
Work through the rest of your hair.
Once all hair is curled then use your fingers to brush through your hair to create a more natural wavy look if desired.
Set the curls with some hairspray and you are good to go! You can even use a large barrel tong on the roots of short hair to create volume.
Tip – Wands can get very hot so use a heat protection spray such as art naturals thermal hair protector and be sure to use a heat protection glove. Most wands come with a glove.
Curling Wand Reviews Conclusion
Back in the day we only got the curling tongs out for a really special occasion such as a birthday party or wedding.
These days we can create so many different looks with a huge range of high standard hair tools.
We don't have to get left with those tightly sprung curls that make our hair look half the length. Remember the frustration and the hours it used to take?
Hair Curling wands create a range of spiraled looks and beautiful waves.
Whether you want relaxed beautiful waves or big glam Hollywood curls then the best curling wand will get you the desired result for you.
Transform your tresses in an instant.
With tousled, voluminous locks you will be sure to make heads turn!
If you don't own a hair curling wand then you are seriously missing out.